Jaromir Jagr traded to Bruins from Stars for two prospects, pick
Jagr Watch 2013 was over before it really ever began. Jaromir Jagr has been traded to the Boston Bruins for two prospects and a pick.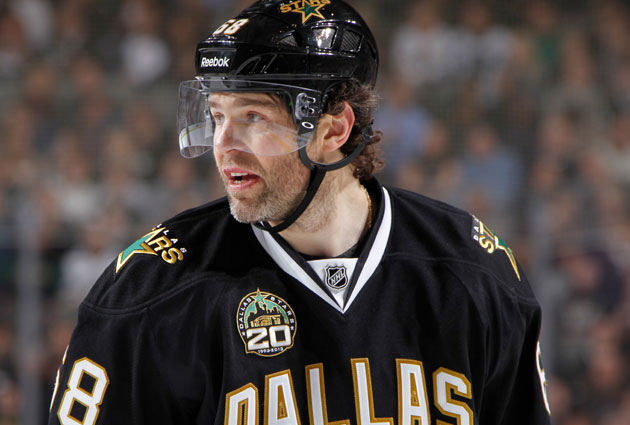 More NHL: Scores | Standings | Odds | Fight-O-Meter | League Leaders | Rumors
Word came down on Tuesday morning that the Dallas Stars were indeed going to trade Jaromir Jagr, and it didn't take long for it to happen. Jagr has been traded to the Boston Bruins for two prospects and a draft pick.
The news was first reported by Stars beat writer Mike Heika of the Dallas Morning News.
In return the Stars will receive prospects Lane MacDermid and Cody Payne as well as a conditional second-round draft pick. That pick becomes a first-rounder if the Bruins win two playoff series this season.
The moment that it became clear that Jagr was not going to remain in Dallas after they failed to sign him to an extension, the Bruins became the obvious front-runner. They were looking for help on the wing in the form a veteran goal scorer and somebody who could help the power play. That's why they were so hard after Jarome Iginla before the Penguins beat them to the punch.
It really seems like a natural fit. Jagr kind of fits the mold of a Bruins forward, doesn't he? A big body who is strong up against the boards and has some mileage on his tires. Frankly, he should fit right in and fit in well.
Remember, Jagr was the leading scorer in Dallas before this trade. He's still more than capable of producing offense in this league despite being 41. In the 34 games this season that he played for Dallas, he had 14 goals and 12 assists.
Plus, he should be a big boost to the power play. That has been Boston's Achilles' heel for a few seasons. Even when they won the Stanley Cup two years ago, they were awful on the power play. They've tried numerous different things to get it going; perhaps adding Jagr will be the missing link.
The downside here is that they really might just be renting Jagr for the remainder of this season. He is a free agent and, as he showed last summer, is more than willing to test the free-agent market.
In addition to being a strong add for the Bruins, it's also a response to the Penguins' moves of the past week. A true battle is shaping up between the two and unless the Bruins are able to catch the Canadiens in the Northeast Division, they could potentially meet in the second round.
We do know they will meet April 19 in Boston when the Penguins make a visit. That's going to be about as good as a regular-season matchup gets this season.
For Jagr, it's team No. 6 in his NHL career, joining the Penguins, Capitals, Rangers, Flyers and Stars as the previous five. It seems like a few too many for a player as great as Jagr, but that will happen when you play for as long as he has. Just the other night, Jagr tallied his 1,000th career assist, giving him 1,679 points (I hope you don't need me to tell you how many goals he has scored).
Now we get to the return. In MacDermid and Payne, the Bruins don't seem to be giving up a lot. Neither of them appears in the Bruins' top-10 prospect rankings among just about every list that you can find. MacDermid is a tough, hard-nosed forward who gets all of those similar adjectives. Gritty. Payne was a fifth-round choice by the Bruins and has enjoyed a bit of a breakout season for Plymouth in the OHL with 24 goals in 60 games this season, but he's still not viewed as an elite prospect.
"Jaromir Jagr produced as a consistent scorer for our team all year and we would like to thank him for his contributions to our hockey club," Nieuwendyk said. "With our eye to the future, we have acquired some valuable assets that we believe strengthen our organization."
So the return does not appear to be anything substantial for Joe Nieuwendyk. A second-round pick from Boston figures to be very late to the point that it might as well be in the third round.
It's surprising to see Jagr cost that little. I figured he would command a return equal to or better than that of Iginla. Jagr is still a tough guy to play against, is difficult to knock off the puck and really drives offense. The underlying stats still love Jagr, yet the Stars don't get a lot.
Funny how GMs were bemoaning the high prices earlier this season, and now guys are going at the deadline for what appears to be low returns.
Stacia Robitaille says Donald Trump told her in an elevator that she was coming home with...

Vladislav Yeryomenko was the Teddy Bear Toss goal scorer for the Calgary Hitmen

The Golden Knights are finally getting their No. 1 goalie back after a 25-game absence
Washington has won four straight, and the Kings are also on a tear right behind the Lightn...

The NHL says it's only interested in expanding to Seattle, but here's a look at all the moving...

The NHL says it is only looking toward Seattle for the next expansion team