Jaroslav Halak says trade too fresh, won't start vs. Blues
Jaroslav Halak was a member of the Blues not even two months ago, traded twice in a week to end with the Capitals. But he won't play in St. Louis on Tuesday, saying the trade is too fresh.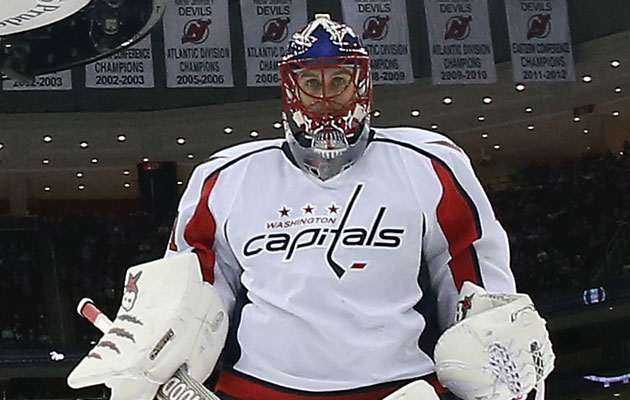 More NHL: Trades | Scores | Standings | League Leaders | Odds  | Power Rankings
The Washington Capitals still have a pulse in the playoff race, even if it's faint as they head to St. Louis to face the Blues on Tuesday night. It's that time of the season where teams ride their No. 1 goalies until their legs fall off.
Since the trade deadline, the Capitals' No. 1 goalie has been Jaroslav Halak but he won't be the one playing on Tuesday night. He was a member of the Blues just over a month ago. The pain is too fresh.
Halak: "It's still too fresh. Maybe if it was under different circumstances, like next year, you know." #stlblues

— Lou Korac (@lkorac10) April 8, 2014
#caps coach Adam Oates on Halak not playing: "We talked to him and you know what, he just wasn't 100 percent comfortable." #stlblues

— Lou Korac (@lkorac10) April 8, 2014
#caps coach Adam Oates (cont): "Unfortunately this time of year and where we're at, we can't afford that." #stlblues

— Lou Korac (@lkorac10) April 8, 2014
Well, you don't see that one every day, now do you?
There is a part of all this that should be recognized and praised. If Halak isn't in it fully, is distracted or whatever, it's a good call to tell his coach as such and for Adam Oates to make his decision to start Braden Holtby instead. That's finding the silver lining, though.
Otherwise, this is hard to stomach all around. Halak knows the players in St. Louis better than any goalie in the league having faced them in practice over the last four years and while it might sting that he was traded, he's a professional in the heat of a playoff race, even if the Caps' chances are slim. If this were in the middle of the season it would be easier to swallow but at this time of the year it's tough to take.
Given how well he knows the Blues from seeing them in practice, you'd like to see Halak coming out determined to shut them down and show the Blues they made a mistake. Not this time, though.
There's also Oates bringing this all to attention in the media in the first place, somewhat throwing his goalie under the bus by giving a reason for Halak sitting this one out. This comes a couple of days after telling the media that Alex Ovechkin quit on a play. It's unravelling on Oates in Washington and it's feeling more and more like this could be his last week on the job.
The Capitals are four points back of a playoff spot with four games to go and are now sixth place in the Metropolitan Division, a point behind the Devils. In the grand scheme this likely won't impact their playoff chances -- and let's not act like Holtby is a horrible goalie who gives them no chance to win in St. Louis because that's not the case -- but for a pending free agent, it isn't a great look.
NHL fans from all over seem to agree on one thing: Hating Kid Rock

The team tweeted on Monday that Shaw would be re-evaluated in 7-10 days

The Montreal forward was hospitalized after taking a Zdeno Chara slap shot to the head
Tampa Bay is still No. 1 and Vegas is still up there, but a few others are finally catching...

Army filed an opposition to the use of 'Golden Knights' on the last day that it was permitted...

The NBC rinkside reporter is hoping to return in time for the 2018 Olympics