Jaroslav Halak's agent upset with Adam Oates, says he didn't ask out
Jaroslav Halak didn't start on Tuesday in St. Louis with his coach saying Halak told him he wasn't comfortable facing his old team. This has Halak's agent angry.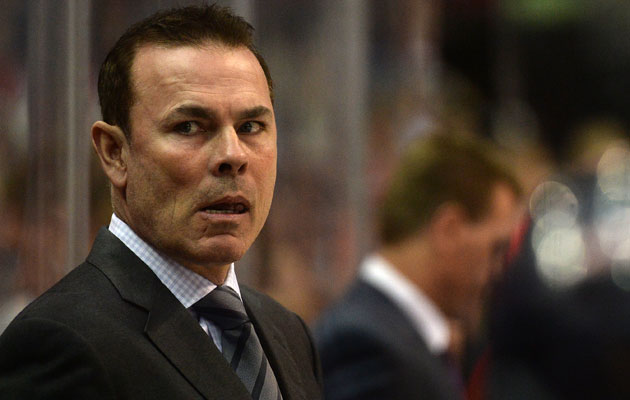 More NHL: Trades | Scores | Standings | League Leaders | Odds  | Power Rankings
Things are headed south faster than the politicians' approval ratings in Washington.
On Tuesday Jaroslav Halak did not start when the Capitals faced the Blues in St. Louis, his former team as of a little more than a month ago. Coach Adam Oates said that Halak told him he was not comfortable facing his old team thus Braden Holtby got the start (and win).
You just had to know that wasn't the last we would hear of the situation because on Wednesday the agent for Halak, outspoken Allan Walsh, issued a statement critical of Oates' handling of the situation and defending his client.
Allan Walsh:"On Jaroslav Halak, Jaro never at anytime said he didn't want to start against St. Louis. A private conversation between...

— Renaud Lavoie (@renlavoietva) April 9, 2014
...a player and coach should stay private and not be discussed with the media. I am bewildered that a coach would break that trust ...

— Renaud Lavoie (@renlavoietva) April 9, 2014
... especially when those comments the coach publicly attributed to Jaro are not accurate...

— Renaud Lavoie (@renlavoietva) April 9, 2014
... It's the coach who makes the decision on who plays in the games, not the players."-agent Allan Walsh.

— Renaud Lavoie (@renlavoietva) April 9, 2014
So this is going well.
Whether or not Oates' portrayal of the situation was accurate or not, this isn't going to help his dwindling case to remain the coach of the Capitals. As Walsh notes, the breaking of Halak's trust by airing that conversation -- again, even if his version as correct -- is not a good sign. This comes not long after Oates called out Alex Ovechkin for quitting on a play.
For the record, Halak talked about it being too fresh to play against the Blues but that could have been him talking about the decision after Oates had made it, who knows. Whether or not that's what Halak told Oates before the decision to start Holtby was made, though, is close to irrelevant. This is a mess of a situation.
Being forthright is nice and refreshing at times but Oates is finding out it can have some real repurcussions. It's looking more and more certain that Oates will be done at the end of the week in Washington after just two seasons.
Halak, meanwhile, is a free agent after this season so he could find greener pastures soon as well despite playing pretty well in his short time with the Capitals.
The former Boston Bruin was the first black player to play in the NHL

Inclement weather led to the Charlotte Checkers and Bridgeport Sound Tigers playing in front...

The NHL chose the Detroit rocker as its All-Star Game entertainment and not everyone is th...
NHL fans from all over seem to agree on one thing: Hating Kid Rock

The team tweeted on Monday that Shaw would be re-evaluated in 7-10 days

The Montreal forward was hospitalized after taking a Zdeno Chara slap shot to the head