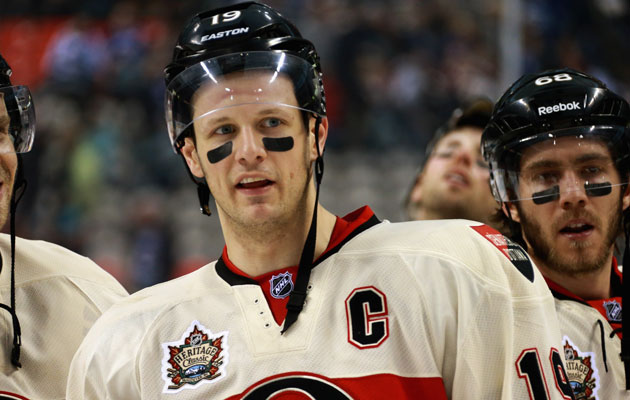 More NHL: Trades | Scores | Standings | League Leaders | Odds  | Power Rankings
Hockey players are well known for their genrosity and charitable spirit. All around, they're hailed as great guys thanks to acts like what John Tavares did for a young Islanders fan who was jeered at a Jets game.
Another perfect example is what Ottawa Senators captain Jason Spezza did recently for an ill fan.
Spezza and his teammate Erik Karlsson gave a personalized photo of themselves to Justin, who was described as a "very sick young boy" at Ottawa's Saint-Vincent Hospital. However that photo was stolen when a car outside the hospital was broken into (via Metro News).
Ottawa Police began searching for the perpetrator but Spezza wasn't interested in waiting for an outcome.
A @Senators signed jersey is now on its way to the ill 21-year-old, whose autographed Spezza/Karlsson photo was stolen #ottnews

— Alison Sandor (@CFRA_Alison) March 13, 2014
Jason Spezza made it his mission to get this done, got entire team to sign it, and he and Karlsson added some personalized items for him.

— Alison Sandor (@CFRA_Alison) March 13, 2014
Once again, an NHL star has done his best to make the best of an otherwise sad story and do his best he did. That's an amazing keepsake that the Senators are sending, way better than just a replacement.
Here's Justin getting his new gear.
Here's the @senators signed jersey sent to Justin by Jason Spezza after his autographs were stolen. #ottnews pic.twitter.com/BbiU0wKHZx

— Alison Sandor (@CFRA_Alison) March 13, 2014
In a way it reminds of the baseball move The Sandlot when Smalls loses his stepdad's Babe Ruth baseball and James Earl Jones gives him a ball signed by the entire Murderer's Row team. Except, you know, this one is real life making it so much cooler.
Kudos to Spezza and the Senators for an awesome gesture.