Jean-Sebastien Giguere's third mask transforms him into a Yeti
Avalanche goalie Jean-Sebastien Giguere has a new mask that turns him into a Yeti.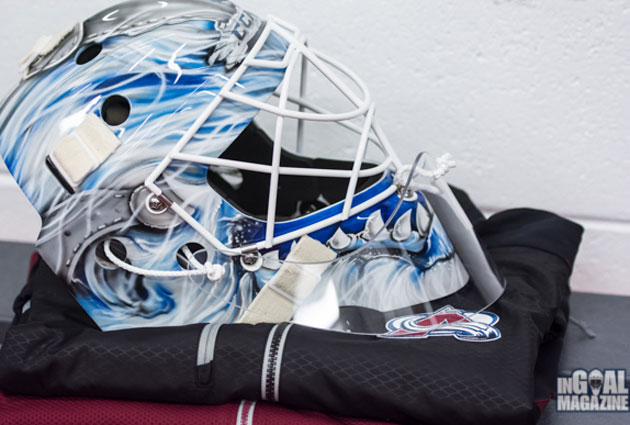 More NHL offseason: Rumors | Top 50 Free Agents | Buyout Tracker | Trades | Transactions
The goalie mask designs keep coming in as the season is approaching and as usual they are all pretty excellent. It's one of my favorite things about the summer in the NHL.
Usually the masks will be painted with designs as more decoration than anything else. To show things the goalie likes and usually some way that it ties in with their uniform. Avalanche Jean-Sebastien Giguere is going with a slightly different approach; he will wear his like an actual mask.
Jiggy's new cage is painted to look like the head of Yeti, as if he were simply putting on a big abominable snowman head over his. The bottom of the mask features a jaw line, the top is flowing white/snow-covered hair and on the sides there are ears. Giguere's eyes, nose and mouth obviously serve as the Yeti's eyes, nose and mouth.
Here is how he explained it to InGoal Magazine (where you can see more photos from different angles of the new mask).
"I am the Yeti," Giguere said. "It's a new design, a new look, and a new painter to go with our third jerseys, so I will wear it in practice and with the third jersey. It's a good look, very simple and I like it. It was my wife's idea."
The new design by Sylvie Poitras should go along well with what his partner in net Semyon Varlamov picked up last year. He too had a mask featuring a Yeti who was having a snow ball battle with a snow man. The Yeti, of course, is associated with the Avs as they have a secondary logo that is simply the foot of a Yeti.
Giguere's mask goes personal on the back with his nickname and the initials of his children, though he forgot his wife.
"Yeah, I probably should have put my wife on there."
Probably.
The decision would likely be met by anger from some fans, but it could also make sense

Toronto shoots to the No. 1 spot, just ahead of the Chicago Blackhawks

The Penguins' standout is at it again
Gary Bettman all but reverses course from his September comments on anthem demonstrations

The 'Washington Post' says many teams have stopped booking stays at Trump-owned properties

New Jersey has the long-term promise; Vegas is nothing like an expansion pushover