Jets' Dustin Byfuglien critical of 3-on-3 OT: 'It's a terrible part of hockey'
Winnipeg Jets defenseman Dustin Byfuglien is not a fan of 3-on-3 overtime.
Through the first month of the season the NHL's decision to decide tie games with a five minute 3-on-3 overtime period has mostly received favorable reviews.
Fans seem to like it because it's really entertaining and has given the NHL's best players an opportunity to display their skill and creativity without getting smothered by defensive structure and a clogged neutral zone. It's basically chaos on ice, and it's great.
Really, the only people that haven't benefited are the goaltenders that have to deal with a seemingly endless run of odd-man rushes and scoring changes.
On Saturday, though, we heard the most vocal criticism yet from a player when Winnipeg Jets defenseman Dustin Byfuglien called it "a terrible part of hockey" following his team's 4-3 overtime loss to the Tampa Bay Lightning on Friday night.
Here is Byfuglien, via Tim Campbell of the Winnipeg Free Press.
"It's terrible. It's a terrible part of hockey. It's not hockey," Jets defenceman Dustin Byfuglien said this morning after his team lost 4-3 to the Tampa Bay Lightning here Friday night.

"It ain't hockey. It's 'Just let the kids play.' It's stupid.

"Just keep it four-on-four, five-on-five. Let's just play hockey."
The NHL seems to be in a damned if they do and damned if they don't situation when it comes to how to decide tie games. A lot of critics hate games being decided by shootouts because it's a "gimmick" and not real hockey. Byfuglien's teammate, Bryan Little, was quoted in the same article and said that 3-on-3 was a terrible way to lose, "but the shootout is a worse way to lose."
So the league has been trying for years now for ways to minimize the impact it has on games from eliminating shootout wins from the tiebreaking process when it comes to playoff seeding, to more subtle changes like last year's attempt at making teams switch ends of the ice for overtime in the hopes that it would create more difficult line changes and create more scoring chances.
This year they went all in and introduced 3-on-3 overtime to create more room on the ice . 
So far, it seems to have made a difference. Only 35 percent of the games that have gone to overtime through Friday have made it to a shootout. At the same point last year it was over 58 percent. 
As for Byfuglien's comment about keeping it 4-on-4 or 5-on-5, one of the NHL's suggestions for overtime was to play four minutes of 4-on-4 overtime and if the game was still tied to play three minutes of 3-on-3. The NHLPA pushed for overtime to be 3-on-3 right from the start because it didn't want to add any additional time on to games.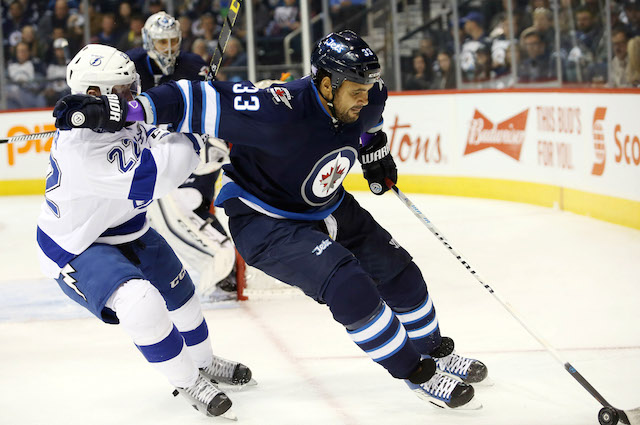 Saturday's showdown will serve as a rematch of one of the NHL's first-ever regular season...

Stacia Robitaille says Donald Trump told her in an elevator that she was coming home with...

Vladislav Yeryomenko was the Teddy Bear Toss goal scorer for the Calgary Hitmen
The Golden Knights are finally getting their No. 1 goalie back after a 25-game absence

Washington has won four straight, and the Kings are also on a tear right behind the Lightn...

The NHL says it's only interested in expanding to Seattle, but here's a look at all the moving...