Jets nix fans' plans for Helmet Pardy for Blackhawks' visit
The fans in Winnipeg were planning a little fun with every fan wearing a helmet Thursday night against Chicago in response to the Adam Pardy incident in Chicago. The Jets squashed it on Wednesday.
More NHL: Scores | Standings | League Leaders | Odds | Injuries | Power Rankings
On Thursday night in Winnipeg, the Jets and Blackhawks are set to renew acquaintences for the first time since Nov. 6 in Chicago. It was in that game that one of the most bizarre things you'll see in an NHL game happened.
Jets defenseman Adam Pardy was checked into through the glass and ended up in the lap of a Blackhawks fan in the audience. Shortly thereafter Pardy had a beer dumped on him and his helmet ripped right off of his head and ended up on top of the head of said fan. It was rather hilarious if not unbecoming of a fan.
Well the Jets fans in all their splendor and creativity were going to have some with the idea on Thursday night back in their house. Spurred on by a local radio host, the fans were going to have a #HelmetPardy where all fans were encouraged to wear a helmet to the game to show Chicago they don't need to steal, they all have their own.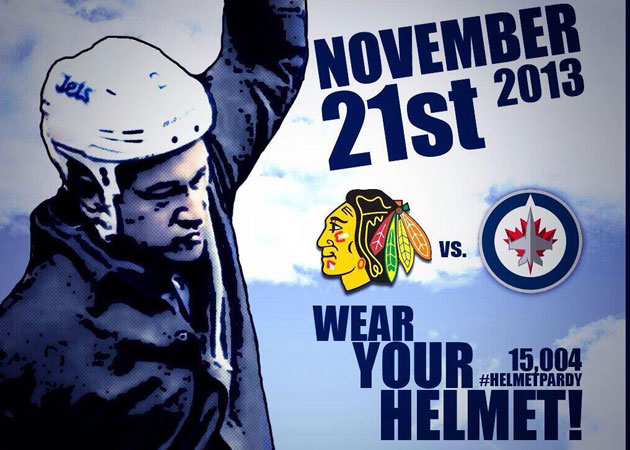 Before the fun could even begin, the Jets came along on Wednesday and nipped the whole thing in the bud. Owner and team chairman Mark Chipman addressed Jets fans and encouraged them not to wear helmets on Thursday night. Here's the entirety of his statement:
"Earlier this week, we learned of a media-promoted stunt to have Winnipeg Jets fans wear helmets to the game on Thursday, November 21st versus the Chicago Blackhawks.

I would like to let our fans know we in no way endorse this idea and in fact and wish to personally advise that we will not permit fans to wear such headgear at tomorrow's game.

The Chicago Blackhawks organization, for whom we hold a great deal of respect, conducted themselves with the highest degree of professionalism in the wake of the unfortunate incident on November 6th. We immediately received apologies from Team President & Governor John McDonough & General Manager Stan Bowman. The Blackhawks organization have also personally expressed their gratitude to Winnipeg Jets defenceman Adam Pardy for the way in which he handled himself in a very difficult situation. As well, the particular individual involved that night has extended a sincere apology to Adam and our organization. He is extremely remorseful and has made an unnecessary yet very meaningful donation to the Winnipeg Jets True North Foundation.

I sincerely believe we have the best fans in the entire National Hockey League. Their passion for the game is unequaled. However, this is about professionalism and respect for our great game and for the NHL. These are principles we attempt to follow in all aspects of how we play and present the game of hockey. Adam Pardy exemplified these characteristics and I am confident Winnipeg Jets fans will display that same respect and professionalism this Thursday by refraining from participating in this stunt and not wearing helmets to tomorrow's game."
So much for that.
I'm not entirely sure what the big deal is here, seems harlmess enough (though it could be pretty bad if a Jet recorded a hat trick, I suppose). Either way, a pretty neat and fun idea has been squashed before it could ever take place. I guess that's the downside to campaings like this going viral; the team brass will eventually find out too.
Knowing the Jets fans, though, they will likely come up with some kind of work around or just have an excellent chant to rain down on the Blackhawks at the game instead.
The puck didn't go in the net but the skater did!

Another sign that Houston is a potential destination for an NHL relocation
The two teams combined for 111 penalty minutes and five ejections

The veteran Minnesota goaltender has recorded three consecutive shutouts

The historic start for the NHL's newest team has come largely from unprecedented balance in...