Jets sign GM Kevin Cheveldayoff to contract extension
Kevin Cheveldayoff has been the Jets' GM since they left Atlanta and he will remain there as the team signed him to an extension Wednesday.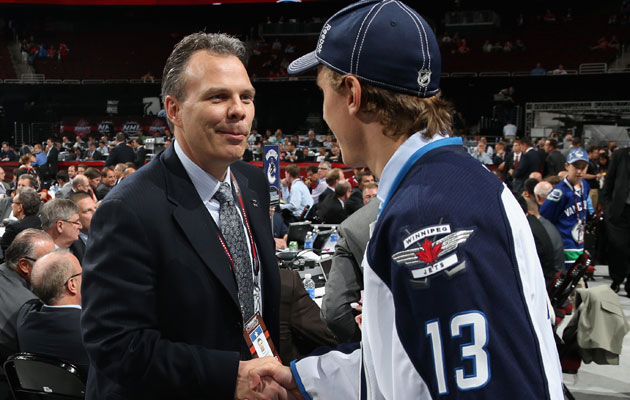 More NHL offseason: Rumors | Top 50 Free Agents | Buyout Tracker | Trades | Transactions
The Winnipeg Jets announced on Wednesday that they have signed general manager Kevin Cheveldayoff to a contract extension.
There was no indication of how long it is for however Gary Lawless says he was entering the third year of a five-year deal so it looks like Cheveldayoff will be there for a while longer yet while the team continues to mature.
Cheveldayoff, or Chevy for short, was appointed the Jets' new general manager the summer they moved from Atlanta to Winnipeg. They wanted to start fresh and that began with hiring a new GM to run things. He came in from Chicago but had no prior experience as a GM.
Since taking over, Chevy hasn't done a ton to overhaul the team; the Jets still have a large contingent of players who can say they played in Atlanta. This past summer was spent mostly re-signing restricted free agents to new deals and with the cap coming down, all of a sudden the Jets are living near the limit.
Expectations are a bit raised for Winnipeg this season in a new division, one that is likely the weakest of the four new division for the upcoming season. It's about time the Jets show they're going to take the next step or else the longer contracts that have been handed out will start to look a little scary, most notably the four years remaining for goaltender Ondrej Pavelec at nearly $4 million per season.
Despite not making the playoffs in the past two seasons while in the weakest division in hockey, the Jets brass appear to like where the team is headed under Cheveldayoff as evidenced by this extension, but they still have a ways to go.
Lincoln Financial Field will play host to the annual outdoor game on Feb. 23, 2019

The Lightning stay on top as other teams begin to catch fire

The NHL said the Flyers defenseman was 'reckless' and used 'excessive force'
'How you gon' do that hockey?'

The puck didn't go in the net but the skater did!