Jimmy Howard 'really, really close' to new six-year deal with Red Wings
Goaltender Jimmy Howard is close to re-signing with the Red Wings for a reported six years and $31.8 million.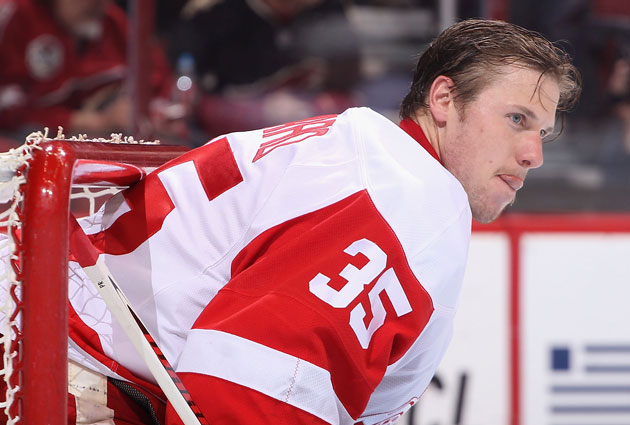 More NHL: Scores | Standings | Odds | Fight-O-Meter | League Leaders | Rumors
Detroit Red Wings goaltender Jimmy Howard is scheduled to be a free agent at the end of the season. That should change really soon.
The Red Wings and their No. 1 goalie for the past few years are very close to finalizing a new deal. That comes from Howard himself.
"It's really, really close," Howard said. "We'll see. You never know. Hopefully by the end of the weekend."
What kind of new contract are we looking at for the 29-year-old Howard? According to Aaron Ward of TSN, it's going to be a six-year deal worth $31.8 million, or $5.3 million per season.
It's a bit of a departure from GM Ken Holland's long-held philosophy of winning with goaltending on the cheap, but Howard has done all that they could have asked of him in the past few seasons and was going to be due a nice raise from his current $2.25 million per season to stay.
Staying was something Howard has wanted to do all along.
"I wanted to be here," Howard said. "I get along great with everyone here. I believe in this organization ... It feels good, I mean I've worked really, really hard, paid my dues in the minors and really became a professional. To see it pay off here shortly is a good thrill for my family and I."
Immediately the attention turns to if this will be a good deal for the Wings. As mentioned, it's not typical of Holland to pay a goalie that high a salary -- it's not that high compared to the rest of the league, mind you. Still, the contract is going to take Howard to 35 years old, and giving goalies contracts of a few years in length is always a risk. It's a bigger gamble than any other position.
For some comparables at that price, it's closest to Roberto Luongo's $5.33 million hit, albeit for a much shorter duration. Marc-Andre Fleury and Ilya Bryzgalov are also in the neighborhood, but again, this deal for Howard is shorter than those. Same for Jonathan Quick, who is having a rather miserable season after signing his 10-year, $58 million deal.
In comparison, it doesn't seem too out of whack at all.
Howard has developed into a reliable and consistent goalie for the Wings. This season he has a .917 save percentage, right on his career average -- which is a few points higher than average in the NHL -- and has played in at least 57 games each of the previous three seasons. This season he has played 33 of the Wings' 39 games.
I think it's a pretty good deal for Holland and the Wings. Goaltending costs you money and you need to have dependable goalkeeping when the rest of the team in front of him seems a bit unsure. Detroit isn't where it's used to being and there is some uncertainty with the roster going forward. Pavel Datsyuk could be gone as early as next offseason, Henrik Zetterberg isn't getting any younger, etc. Howard at least provides some stability -- and ability -- during the upcoming stretch.
The Wings could get away with a cheaper goaltending approach when they had Nicklas Lidstrom and four lines of scoring. They don't have those things anymore so it's wise to invest more in the goaltending to make up for that.
Coach Mike Babcock knows the value in a strong and reliable goalie.
"Howie has worked hard and the organization has confidence in him," Babcock said. "It's important for us. We need good goaltending. Just how much parity there is, we need him each and every night and he's been excellent for us."
The team tweeted on Monday that Shaw would be re-evaluated in 7-10 days

The Montreal forward was hospitalized after taking a Zdeno Chara slap shot to the head

Tampa Bay is still No. 1 and Vegas is still up there, but a few others are finally catching...
Army filed an opposition to the use of 'Golden Knights' on the last day that it was permitted...

The NBC rinkside reporter is hoping to return in time for the 2018 Olympics

Here's who wade the cut for the 2018 NHL All-Star Game on Jan. 28 at Amalie Arena in Tampa...