Jimmy Howard to miss Game 5 start with flu, up to Gustavsson
Jimmy Howard missed Game 4 with the flu and he'll be out for Game 5 as well, leaving the Red Wings to go with Jonas Gustavsson in an elimination game at Boston.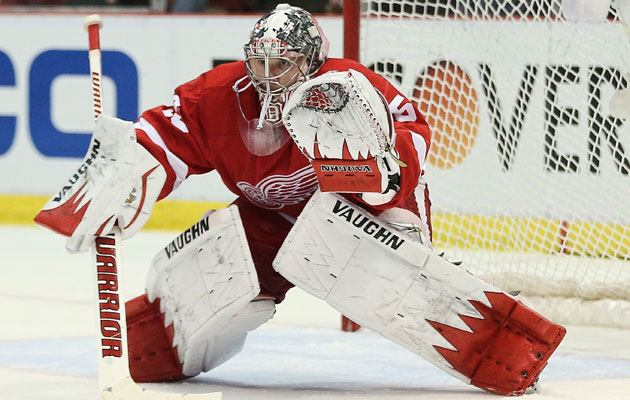 More Playoffs: Schedule, TV listings | Expert Picks | Bracket | Scores | Odds
The Detroit Red Wings will have to stave off elimination in Boston without Jimmy Howard.
The Wings' No. 1 goaltender was a late scratch on Thursday for Game 4 in Detroit, not suited because of the flu. Jonas Gustavsson started in his place and took the tough loss in a 3-2 overtime game. The same ailment is going to force the Red Wings to go with Gustavsson again in Game 5.
Mike Babcock says Jonas Gustavsson starting Game 5 at Boston. Jimmy Howard didn't practice because of flu, assumption is he'll back up.

— Helene St. James (@HeleneStJames) April 25, 2014
What a time to get sick, and that must be quite a nasty flu bug he's got there (or is it something more?).
Howard did not have the best of seasons with his .910 save percentage in the regular season, not that much different than Gustavsson (who had a .907 save percentage in 27 appearances). Certainly there wasn't a tremendous drop off noticed in Game 4.
Still, you'd like to have your top goaltender in the nets in the most important game of the season, a true must-win game in a hostile arena.
Game 5 is on Saturday in Boston. Babcock remains hopeful that at least Daniel Alfredsson will return for Detroit.
After missing the Stanley Cup playoffs with a herniated disk, Letang is working on his foo...

The 38-year-old defenseman had been on the free agent market since July 1

New York fans aren't too happy about it, either
The league is not backing down, but players aren't hiding their frustrations, either

Draisaitl remains unsigned as Edmonton's premier restricted free agent

Yes, it is as perplexing as it sounds