Jimmy Howard will give Detroit a chance, but he's not enough
If not for Jimmy Howard the Red Wings wouldn't have a chance against the Chicago Blackhawks. Even with him it may not be enough for them.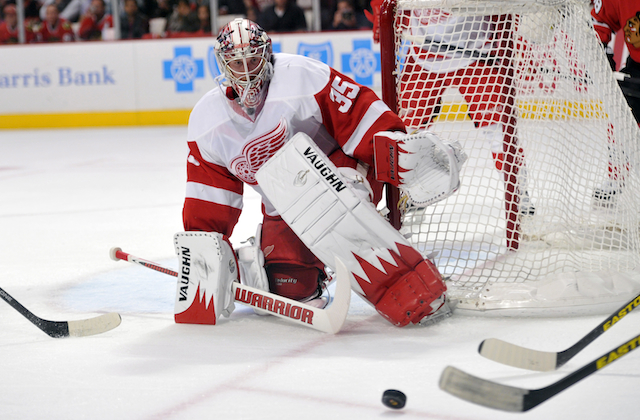 More NHL Playoffs: Scores | TV Schedule | Expert Picks | Odds | Mock Draft | Rumors
If there was one bright spot for the Detroit Red Wings in their 4-1 Game 1 loss to the Chicago Blackhawks on Wednesday night it was the play of goaltender Jimmy Howard.
He did everything in his power to single handedly keep the game close into the third period and give his team somewhat of a chance. The Red Wings are going to need a lot more of that over the next two weeks if they're going to have any sort of a chance in the series.
And as was the case on Wednesday night, even that may not be enough.
The Blackhawks put on a clinic in puck possession and spent most of the night, particularly the second and third periods, firing shot after shot at Howard and generating scoring chance after scoring chance. At certain points during Wednesday's game the Red Wings looked even more overmatched than the Minnesota Wild did against the Blackhawks in the first round (and that series ended in five games). Chicago basically did to Detroit what Detroit had done to the rest of the NHL in recent years: Own the puck in the offensive zone and play what amounted to a 60-minute game of keepaway.
It was all very impressive with Marian Hossa and Patrick Kane leading the way. When those two guys were on the ice that Red Wings looked absolutely incapable of moving the puck up the ice. And it created a ton of work for Howard. Had he been anything less than brilliant this game would have been a rout. Don't let the score or the fact he gave up three goals (Chicago's fourth goal was an empty net goal) fool you when it comes to his performance. He was great, and it wasn't his fault his team allowed twice as many shots on goal as it took.
The Red Wings on Wednesday were like the bizarro version of the team we've grown used to seeing in red-and-white over the years. They would always dominate the puck and get by with whatever goaltending they could get from Chris Osgood. This team, at least in this series against this Blackhawks team, is going to have to rely on its goaltending to keep its season going.
Wednesday's loss was Detroit's fifth in a row against Chicago this season, and even though three of the four regular season meetings were decided by one goal and went to either overtime or a shootout, a lot of that was due to Howard.
In five games against Chicago this season the Red Wings have managed just six goals, and only once, a 3-2 shootout loss back on April 12, managed to score more than one. That's just not going to cut it against a team that has the firepower the Blackhawks.
Howard is going to give his team a chance in this series, but they're going to need a lot more than just him to actually pull off the upset.
The Pittsburgh Penguins will put politics aside and visit the White House out of 'respect'...

NBC will reportedly be devoid of NHL game broadcasts between Feb. 7-26

The Winnipeg winger suggests Trump is going after 'the principles the U.S. was founded on'
League gets excited about exhibition matches in Beijing and Shanghai

NHL players are still disappointed they won't be going to skate in PyeongChang

With Artemi Panarin in the mix and a Vezina winner headlining the defense, Columbus can be...