Joe Pavelski's incredible scoring run good for Sharks, Team USA
Joe Pavelski has goals in 18 of his last 20 games and has helped the Sharks keep pace despite injuries. He also may be playing himself into a more prominent role for Team USA at the Olympics as well.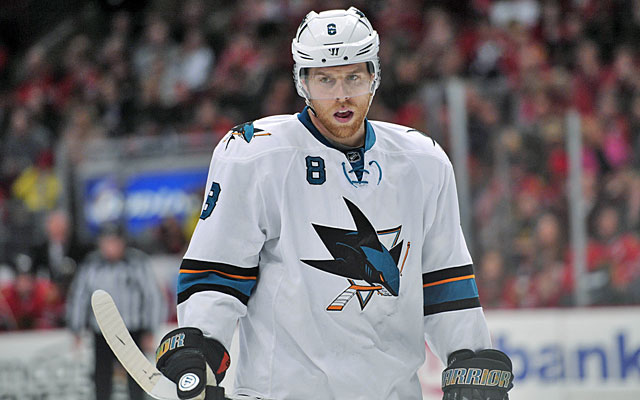 More NHL: Scores | Standings | League Leaders | Odds | Injuries | Power Rankings
If you looked away from NHL coverage for a day or two, say to track the latest in the wide world of Richard Sherman, you might have missed what Joe Pavelski has been doing lately. The San Jose Sharks forward and US Olympian is one of the hottest scorers in the NHL with 18 goals in his past 20 games. Pavelski's 27 goals this season have him second only to Alexander Ovechkin and tied with Corey Perry in the NHL's goal scoring race.
Pavelski comes into Thursday night's game against the Winnipeg Jets with six goals over his past three games. Since Dec. 10, Pavelski has gone no more than two consecutive games without a goal and already has 11 goals through 10 games in January. He also improved to a point-per-game pace with his 50th point in his 50th game, Monday against the Flames.
It's all coming together at the absolute best time for Pavelski and his team. The Sharks have won 13 contests over this 20-game stretch of Pavelski's hottest scoring run. It hasn't been good enough to gain ground on the previously scorching Anaheim Ducks, but the Sharks are one of the teams pulling away from the rest of the pack for a sure playoff spot.
Pavelski isn't likely to keep up this kind of scoring, but if nothing else, his hot streak is well timed as it comes in the midst of injuries to two key forwards for San Jose.
Tomas Hertl has been out since Dec. 19. Pavelski proceeded to score goals in three straight after the rookie sensation went on the shelf. Since rising star Logan Couture was sidelined with an injury Jan. 5, Pavelski has scored nine goals, more than making up for the production the Sharks lose without Couture.
Contributing to the uptick in production for Pavelski is his being paired with Joe Thornton, one of the best setup men in the history of the game. Previously, Pavelski had been centering San Jose's third line in an effort for the Sharks to spread out the scoring.
Having both Pavelski and converted forward Brent Burns with Thornton gives the Sharks a formidable top line that is going to be tough for anyone to match up with. That softens the blow of being without both Couture and Hertl.
Pavelski maintains that he's not doing a lot differently on the ice during this streak.
"I'm trying to make a few better reads, a few better plays and at times, hitting the puck a little cleaner," Pavelski told the San Jose Mercury News of his improved offensive play.
So often it seems that a few minor adjustments here or there precede a hot streak, but there's also a fair amount of luck, too. Pavelski's shooting percentage is nearly double his career mark. It's probably due for a regression at some point, but with slightly different lineup circumstances than the norm for Pavelski, it may be a while for that to hit.
Pavelski's play isn't just good news for the Sharks, though. The powers that be with the US Olympic team have to be pleased that a key forward might be ready to enter the Olympics on the hottest offensive stretch of his career.
Pavelski is a good bet to be a top-six center for Team USA in Sochi. If he can continue his productive ways, he'll help shore up an area of relative weakness in the US lineup. The Americans have plenty of talent up front, but if there was one obviously glaring deficiency, it's the lack of a bona fide No. 1 center.
With the way Pavelski is playing right now, he might be that guy. His 50 points rank ninth in the league, putting him in similar company with some of Team USA's star wings like Patrick Kane and Phil Kessel, also among the top 10 in the league.
Hot streak or not, Pavelski has looked better equipped for a featured offensive role on the US squad for much of the season. He's certainly in a better position at this point in his career than he was for his last trip to the Olympics.
In 2010, Pavelski centered Team USA's de facto third line with Kessel and Ryan Malone. He was also one of the players sent out in the final minute of the gold-medal game against Canada and had a hand in the play that ended with Zach Parise's late tying goal to force overtime.
Pavelski ended the 2010 Olympics with three assists, but will likely be asked to shoulder a much bigger offensive burden in Sochi. Having already played with Kessel, he may have a good match in a linemate who is enjoying a similar hot streak. Kessel has 14 points over his past seven games and 52 for the season.
Pavelski's emergence as a potential scoring threat for the US is going to give Dan Bylsma a little more flexibility with how he uses his centers, including Ryan Kesler, David Backes, Paul Stastny and Derek Stepan.
Though Pavelski has seen his scoring uptick come while switching off center duties with Thornton, there's no reason he can't be that top-line threat that gives the US more goal-scoring prowess down the middle. That means Bylsma doesn't have to force one of the other centers into a role that doesn't fit.
Pavelski is excelling in all facets of the game right now and even if he can't keep it up at this particular pace, that US center crop looks a tad more appealing than it did a month ago and the San Jose Sharks somehow appear even more dangerous down the stretch.
Here's a look at the best of what's left in the pool of unsigned veterans

New York hands Zibanejad a five-year deal but still finds itself in cap trouble

Ontario's 2017 RBC Canadian Open plays host to some puck shots from the legendary golfer
The unsigned forward, still in search of a team, is campaigning for himself

The league shoots down a report that NHL players could still be permitted to go to the Oly...

The 45-year-old forward remains unsigned but has shown little desire to hang up the skates