Joe Thornton driving force behind Sharks Game 3 win
Joe Thornton didn't score a goal but he was the best player for the Sharks in their 2-1 overtime win against the Los Angeles Kings in Game 3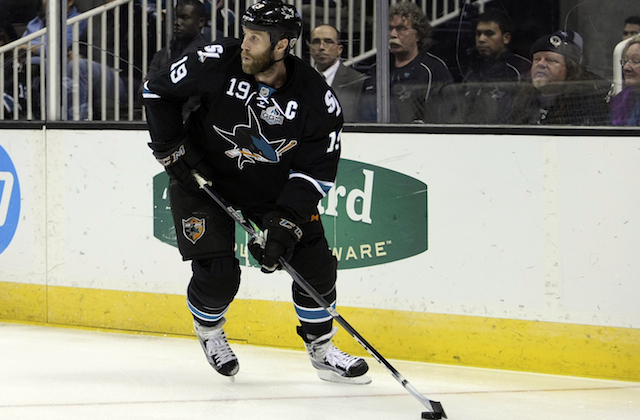 More NHL Playoffs: Scores | TV Schedule | Expert Picks | Odds | Mock Draft | Rumors
The narrative on Joe Thornton's career is that he's a great regular season performer that comes up short in the playoffs and can't get it done when it counts.
That doesn't mean it's accurate, of course.
More on Kings-Sharks
Related links
It's actually extremely unfair and a steaming pile of manure, and it all usually goes back to a couple of poor postseason performances when he was a young player in Boston (including once when he was still a teenager during his rookie season).
Since joining the Sharks Thornton has actually been a very productive player in the playoffs, averaging nearly a point-per-game. But because he's the best player on the team and the face of the franchise he becomes the posterchild for the Sharks' postseason shortcomings over the years. The team didn't win, so of course we blame the best player whether it's his fault or not.
If you watched Saturday's 2-1 win in Game 3, a game the Sharks absolutely had to win, you saw Thornton at what was perhaps his very best in a huge moment. From the opening faceoff he was the best player on the ice and there really wasn't anybody else that was even close to him on either team.
He didn't score a goal for the Sharks, but he had a direct hand in both goals they did score, winning the faceoff and providing the screen in front of Jonathan Quick that set up Dan Boyle's first period power play goal, and assisting on Logan Couture's overtime winner. Those were only his contributions on special teams, and they were essential for the Sharks to get the win.
But his play at even strength was downright dominant and just as important.
Over the past couple of years when these two teams have met, Thornton has had some problems when going up against Anze Kopitar's line. Given that the Sharks were at home on Saturday and had the last change and could take some control over which individual matchups would take place on the ice coach Todd McLellan did his best to get Thornton's line out against Mike Richards and Jeff Carter and not Kopitar's.
And it was complete domination for the Sharks as the Kings' duo of Richards and Carter was completely unable to contain Thornton.
When he was on the ice during 5-on-5 play, with most of it coming against the aforementioned Kings line, the Sharks generated 14 shots on goal and attempted an incredible 37 total shots in just 15 minutes of ice-time.
The Kings in that time? They had five shots on goal and only attempted 12. If you're into hockey's advanced stats, that means the Sharks had 76 percent of the attempted shots when Thornton was on the ice.
There is only one word to describe such a performance: Domination.
OK, maybe two words: Total domination.
Even though they're facing a 2-1 deficit heading into Game 4, the Sharks have played extremely well in this series and have arguably been the better team in each of the past two games. If the Kings don't want to return home for Game 5 with a series that's tied they're going to have to find a way to slow down Thornton on Monday night.
Finding a way to get Carter and Richards away from him might be a nice start.
Los Angeles isn't rushing to sign the 45-year-old forward any time soon

The University of Denver star and Hobey Baker Award winner is drawing interest

Intrigue is high in Arizona after a wild offseason, but expectations should still be tempe...
Players are set to give personalized messages for Adidas' former hockey equipment brand

The 40-year-old center is returning to the Wild after a successful run in Pittsburgh

Edmonton locks up its 21-year-old RFA a month after McDavid's historic extension