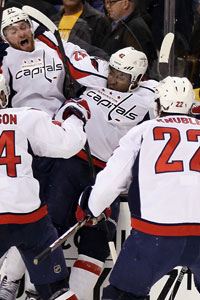 Ward set off the celebration for Washington with the OT winner. (Getty Images)
It was proved last season that losing big games will often bring out the worst in a fan base. The rioting in Vancouver was a stain on the city and its fans, but we all know there are a lot of good Canucks fans out there who weren't involved and were appalled by the actions.
The fans of the team that was the cause of that frustration for Vancouver, the Boston Bruins, are proving it once again.
Being upset that your favorite team and defending Stanley Cup champions are knocked out in overtime of Game 7 is perfectly natural and expected. Taking to Twitter to tweet hate-filled and racist tweets at the Capitals player who scored the goal, Joel Ward? That's neither perfect, natural nor expected. You don't need me to tell you it's deplorable.
A small minority -- and I stress that part because it really is a small portion of the Bruins fan base -- took to Twitter and unleashed their anger, directing it squarely at Ward. I would embed one of those tweets for you to see, but decorum and taste dictate I don't.
Here is a collection (NSFW warning: offensive language and cursing) of some of the awful things tweeted about Ward.
For his part, Ward is not paying much attention to any of it, brushing it off according to his agent Peter Cooney to the Globe & Mail.
"He's put it in his back pocket so to speak," Cooney said. "He knows he's going to have interviews and people talking about it. He's heard about it, but he said 'Peter, don't worry -- that stuff never bothered me.' "
Just in case anybody wanted to make this all about the Bruins and the city of Boston, painting them with broad strokes, the Bruins issued a statement, condeming the tweets on Thursday.
"The Bruins are very disappointed by the racist comments that were made following the game last night. These classless, ignorant views are in no way a reflection of anyone associated with the Bruins organization."
The old Internet "tough guy" strikes again. I sincerely doubt any of these people would say the same things to Ward, or maybe only one or two. But get behind a computer screen and it's open mic. Never mind that some of the tweeters use their real names in their handles and/or profiles.
The dumbest part of this all, if there is anything worse than the tweets themselves? The Bruins were the first NHL team to have a black player. Willie O'Ree broke the color barrier back in 1958.
Yet here we are, a half-century later, and people are still talking about a player's race? This comes in the same season as the preseason incident in Canada where a banana peel was thrown on the ice when Wayne Simmonds of the Flyers was taking a shootout attempt, an act seen by most everybody as racist.
Here's a thought: Get mad at your own team, Bruins fans. Put your frustrations toward the league's second-best offense that couldn't find a way to beat the Capitals defense and their rookie goaltender. Pick any number of goats the Bruins might have after the series and vent there. Don't go attack the player who scored the winning goal simply because he is black.
For Ward, it's a great story. He jumped on the map with a terrific postseason last year in Nashville, earning him a nice contract from the Capitals. He struggled this season to find his niche. But from the beginning, he was brought in for the playoffs. So he did what he was brought to Washington to do Wednesday night.
His winner is a great story. Leave it to some idiots to turn it into an ugly one just like that.
Oh, and CBS Sports Network's Jim Rome weighed in on the conversation, too.
More from Eye on Hockey
Watch: Ward's Game 7 OT winner
For more hockey news, rumors and analysis, follow @EyeOnHockey and @BrianStubitsNHL on Twitter and like us on Facebook.