Johan Franzen says fighting not part of his game, chirps Chris Neil
Johan Franzen was criticized by Chris Neil for being gutless. Franzen responded by questioning why he would fight and 'it's like me asking him to be a good hockey player.'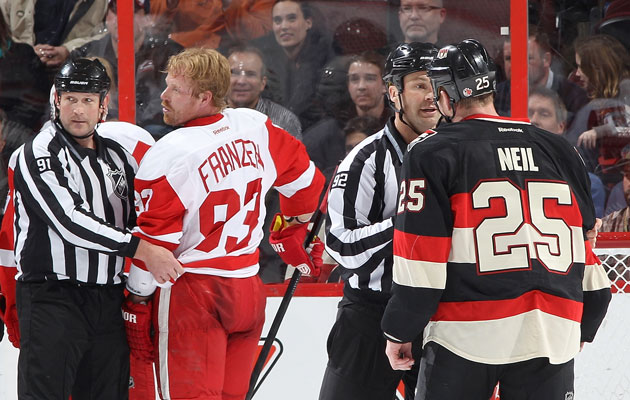 More NHL: Scores | Standings | League Leaders | Odds | Injuries | Power Rankings
Well this ought to go over well.
The Senators and Red Wings had an interesting angle to start their first season as division rivals; Daniel Alfredsson. While that felt more like a domestic dispute, what has been growing between Detroit's Johan Franzen and Ottawa's Chris Neil is looking more like old-fashioned ill will with the always exciting war of words.
It all started after Franzen scored a hat trick on Thursday against the Sens in a 6-1 win. When the game was winding down, Neil earned a roughing call, an unsportsmanlike minor and a 10-minute misconduct after going after Franzen. The Mule also picked up a 10-minute misconduct but the two didn't fight.
And that, ironically, is how their fight began. Franzen criticized Neil after the game for "putting on the cape" and flying out there when the game is over. Neil had a response to stick up for himself. Naturally it was about fighting because that's how hockey players resolve differences. A few put-downs in the process don't hurt. From the Detroit Free-Press:
Neil took exception to those comments, telling the Ottawa media Friday: "I'm there first shift and any shift he wants. He wants to drop his purse, take the lipstick out, put it on his lips and 'Let's go.' Anytime. Any day. Anywhere."

Neil also said: "I'd take my cape off if he took the yellow streak off down the middle of his back. You know that streak? It means a gutless streak."
Franzen didn't thank Neil for his clarification on the meaning of a yellow streak. In fact, he got pretty bold with his response to Neil's jab on Saturday with a pretty sick burn on his own right.
"For me, it's not a part of the game," he said. "I couldn't care less what [he says]. I'm not going to fight him. It's easy as that. I've had enough concussions and definitely not going to risk one doing something as stupid as that."

Franzen then added: "It's like me asking him to be a good hockey player."
Ouch. That last line has to hurt as much as a punch to the face. No matter the role a player has, every NHLer wants to be good at hockey, it's why they started playing in the first place.
But the jab at Neil obscures what many will call the bigger part of this whole ordeal, Franzen's condemnation of fighting. Though perhaps his words were a bit twisted; not that fighting isn't part of the game, just that it's not part of HIS game.
He clarified a bit to Red Wings Front.
"I didn't say that," Franzen said when asked if he believed fighting should be taken out of the game. "I said I don't fight. I never played that way. I don't see the reason to start now."
His belief of fighting's role aside, he makes good points. The objective of the game is to score more than the other team, period and it's not his position to be a fighter, teams have that role for a reason, so guys like Franzen aren't compelled to fight and risk injury. Even though the Red Wings don't really have somebody in that role and GM Ken Holland has been open about not loving fighting in the game, Franzen still isn't compelled to drop the gloves even if hockey's code might suggest otherwise.
A fight between players about their abilities and actual fighting all while the two teams are fighting for a playoff spot in the East. Very quickly the Sens and Wings have become quite the series.
Some familiar faces are back, but a cap-strapped summer left Chicago a little shakier than...

The Pittsburgh Penguins will put politics aside and visit the White House out of 'respect'...

NBC will reportedly be devoid of NHL game broadcasts between Feb. 7-26
The Winnipeg winger suggests Trump is going after 'the principles the U.S. was founded on'

League gets excited about exhibition matches in Beijing and Shanghai

NHL players are still disappointed they won't be going to skate in PyeongChang