John Tavares named new captain of the New York Islanders
After Mark Streit left for Philadelphia, the Islanders were without a captain, a spot they filled on Monday with John Tavares.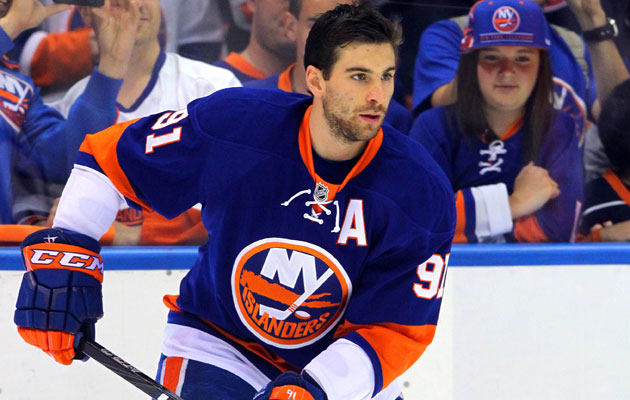 More NHL offseason: Rumors | Top 50 Free Agents | Buyout Tracker | Trades | Transactions
In one of the least surprising developments of the offseason, the New York Islanders named John Tavares their new captain on Monday. He had been an alternate for the past couple of seasons.
The Islanders captain vacancy opened up at the beginning of the offseason when Mark Streit's rights were traded to the Flyers. That left the Isles without somebody sporting the C and one very obvious choice in Tavares. On Monday it was fait accompli.
"I'm honored to be named captain of the New York Islanders," Tavares said. "To represent my teammates, coaches, management and the incredible fans that support this historic franchise is something that I take seriously. My experiences over the past four seasons have prepared me for this responsibility and I look forward to the challenge of leading the Islanders each season as we contend for the Stanley Cup."
Tavares was the No. 1 overall pick by the Islanders in 2009 and has slowly been developing not only into a Hart Trophy finalist but the leader and face of the Isles.
"He consistently represents our organization with class and respect," GM Garth Snow said of Tavares. "John's work ethic and determination inspires his teammates to succeed, which makes him the perfect choice to lead our franchise."
Tavares becomes the 14th captain in franchise history, joining the likes of Clark Gillies, Denis Potvin, Brent Sutter, Doug Weight and Kenny Jonsson. OK, one of those is not like the rest.
This past season Tavares had 28 goals and 19 assists as he led the Isles back to the postseason and earned himself a spot as a Hart Trophy finalist as a result.
The 40-year-old center is returning to the Wild after a successful run in Pittsburgh

Edmonton locks up its 21-year-old RFA a month after McDavid's historic extension

Even with a new coach and added veteran help, the Canucks have a long road ahead
Unlike expansion teams before them, the Knights have enough talent to entertain right away

Brian Lawton says he 'would not be surprised' if Boston deals its young star to end contract...

It turns out Phil does love his hot dogs, especially when they're in a Stanley Cup