John Tavares sends signed jersey to young Isles fan jeered at Jets game
John Tavares read about a young Islanders fan who was jeered at a game in Winnipeg for wearing an his Isles jersey so the captain sent a signed jersey.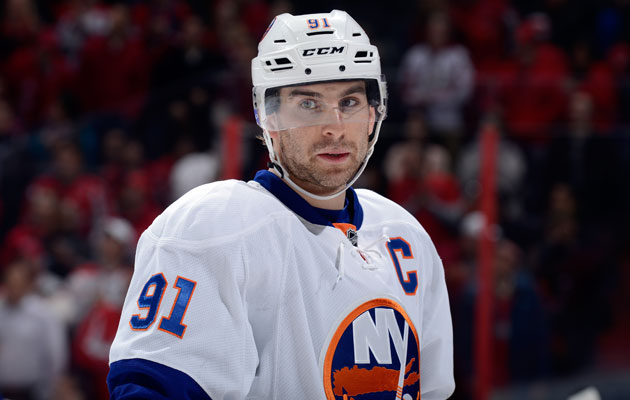 More NHL: Trades | Scores | Standings | League Leaders | Odds  | Power Rankings
Winnipeg Jets fans are well known for their passion and intensity. Since the team returned, the arena is always packed and rocking. Their fans have quite the reputation for their clever jeers and overall showing at games.
But among every great crowd are always some bad seeds and one 11-year-old fan found that out the hard way. Jake Lotocki happens to be a fan of the New York Islanders and their star John Tavares so when the Islanders came to Winnipeg recently he went, Tavares jersey and all.
What happened, though, was anything but fun. The Winnipeg Sun reported on the story after the game that Lotocki was harrassed by a few fans with one getting in his face, calling Lotocki a loser and to go home. It was so bad that Lotocki took off his jersey to walk back to the car and tried to hide it.
Tavares wasn't with the Islanders, of course, because of his season-ending injury but he saw the Sun story and immediately wanted to do something. The Sun has the update:
He immediately called the team's director of communications, Kimber Auerbach, who was with the Islanders as they played in Vancouver.

"He called me during the game and told me he wanted to do something for Jake," Auerbach told the Sun, Wednesday.

After reading how Lotocki had to leave the arena with his jersey crumpled up so people wouldn't see it, Tavares suggested sending the boy a new one, autographed by his favourite player.
Not only that but the Islanders plan to invite Lotocki to the team's skate next season when they're in Winnipeg. An Islanders fan group reached out to offer their support as well as some Jets fans. One Jets fan offered to give up his season tickets to Lotocki for a game.
It's so awesome to see a bad situation bring out the best in a lot of people, including Tavares himself. He saw the story and reached out on his own volition to help in what little way he could. Surely it's a small gesture that will likely go a very long way.
S/t The Score
NBC will reportedly be devoid of NHL game broadcasts between Feb. 7-26

The Winnipeg winger suggests Trump is going after 'the principles the U.S. was founded on'

League gets excited about exhibition matches in Beijing and Shanghai
NHL players are still disappointed they won't be going to skate in PyeongChang

With Artemi Panarin in the mix and a Vezina winner headlining the defense, Columbus can be...

The league's crackdown on faceoff infractions and slashing penalties isn't without some cr...