John Tortorella wasn't the only problem in New York
The Rangers fired John Tortorella on Wednesday, but he wasn't the only problem at Madison Square Garden.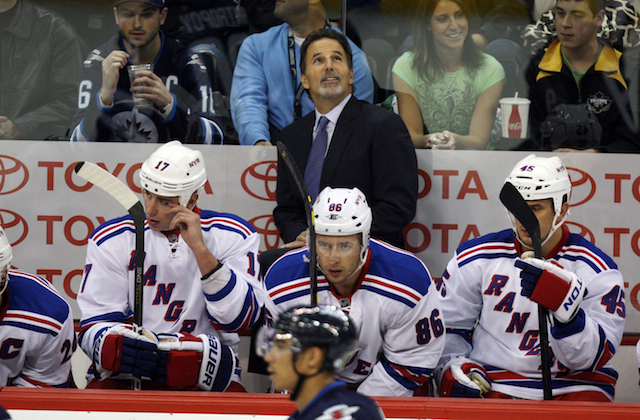 The New York Rangers had a lot of questions to answer and a lot of decisions to make following their loss in the Eastern Conference semifinals to the Boston Bruins.
On Wednesday, they started making those decisions with what was perhaps the easiest and most obvious one for a team to make when it falls short of expectations.
Fire the coach. Because, well, you can't replace all 23 players at once.
The Rangers announced that John Tortorella was relieved of his duties after four-and-a-half seasons on the job with general manager Glen Sather saying he hopes to have the position filled before the NHL draft in late June.
It's entirely possible, if not likely, that Tortorella's time in New York had run its course and that it was time for a new voice and a new approach.
But was the coach really all that was holding the Rangers back?
I still believe that if your team is in a position where it has to make a coaching change, it should also be fair to take a step back, examine the job being done by the general manager (in this case, Sather) and ask the same questions. 
Sometimes it really is the coach, or the strategy, or the approach, and something needs to be done to maximize what's on the roster. But many times, a team that's firing its coach also probably isn't getting enough out of its front office. Sometimes a coach is only as good as the players that he has. After all, the general manager is the guy who's putting together the team that the coach has to work with.
Given the results in New York during Sather's tenure (starting in 2000), it's not unfair to ask some questions about the job that he has done.
Whenever Sather finds Tortorella's successor, it's going to be the seventh coaching change the Rangers have experienced during Sather's watch (including his own stint as an interim coach). That's a lot of turnover, even for the NHL, where coaches get changed as often as a pair of socks. Over that time, only five teams in the league have experienced more coaching changes: Columbus, Florida, Montreal, New Jersey and the New York Islanders.
The results at Madison Square Garden have always been the same.
Coaches have come and gone. Players have been developed through the farm system, and new leaders emerged. Free agents have signed huge contracts and later been traded (and sometimes even bought out).
The one common denominator through all of it: The guy making the personnel decisions and putting together the roster.
Again, this isn't to say that a coaching change isn't needed in New York. It's just that a coaching change might not be the only change needed. Heck, you could probably make the argument that Tortorella did a better job during his time in New York than Sather has during his.
Consider...
1.) In the Rangers' first eight years under Sather (and before Tortorella was hired), the Rangers missed the playoffs four times, made it to the second round only twice and never reached the Eastern Conference finals. In the full four years under Tortorella, the Rangers made the playoffs three times and made it to the second round twice (each of the past two years), including a trip to the conference finals last year. The only NHL coaches to reach the second round in 2012 and 2013 are Tortorella and Los Angeles' Daryl Sutter.
2.) Just because you're the general manager of a big-market team with a limitless supply of money doesn't mean you have to bid on -- and sign -- every big-name, big-money player who becomes available.
For the Rangers, that approach has resulted in a number of brutal contracts over the years, ranging from Bobby Holik to Wade Redden to Scott Gomez to Chris Drury and to the next one on the list, Brad Richards. Compile a list of the 10-worst contracts signed over the past 15 years and there's a good chance that at least three of those contracts are going to make nearly everyone's list. Rick Nash had a really strong debut season with the Rangers, but he, too, has a huge contract, and he's starting to get close to the age when goal-scorers start to decline (Nash's numbers had already been trending downward in Columbus for several years). Given that he's one of the 10 highest-paid players in the league and is signed for another five years, that contract, too, could become a problem.
Sather said on Wednesday that "every coach has a shelf life."
"I've told every guy that I've hired that, at some point in time, this is gonna change," Sather said. "Our goal is to win the Stanley Cup, and we didn't achieve that goal this year. I had to make the decision, so I did."
It's true. Every coach does have a shelf life.
The same is true for general managers.
Laraque says that when the Pens do visit President Donald Trump, 'It's not going to look g...

After the Caps went 'all in' a season ago, a rough offseason figures to lead to disappointment...

Two of Blake Wheeler's teammates back his comments on supporting players' right to protest
Sign up now, and your name can be under the Golden Knights' skates, too!

Pittsburgh coach Mike Sullivan says the team also respects players' right to protest

Some familiar faces are back, but a cap-strapped summer left Chicago a little shakier than...