Jonathan Drouin, Nathan MacKinnon lead top 10 forwards available
The NHL Draft is Sunday in New Jersey, and here Chris Peters' top 10 forward prospects available starting with Jonathan Drouin.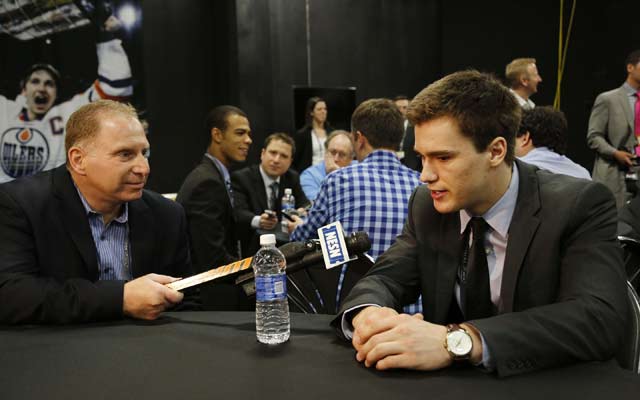 More NHL offseason: Rumors | Top 50 Free Agents | Top 50 Prospects | Mock Draft
The NHL Draft is Sunday in New Jersey, and here are my top 10 forward prospects available starting with Jonathan Drouin.
Top 10 forwards in NHL Draft by Chris Peters
1. Jonathan Drouin - LW - Halifax Mooseheads (QMJHL) - 5-10, 186 - Overall ranking: 2

Though overshadowed by his goal-scoring linemate, Drouin is the best forward available. He has incredible hockey sense, elite vision and some of the best puck skills -- if not the best -- in the draft. His creativity and ability to make his teammates better when he hits the ice gives him the edge. He is still growing into his frame and, though a wing, impacts the game almost every shift. Because of his elite hockey sense and already-immense puck skills, I have Drouin's upside graded slightly higher than MacKinnon's, and that's just enough to put him over for me.

2. Nathan MacKinnon - C - Halifax Mooseheads (QMJHL) – 6-0, 182 - OR: 3

He's an explosive talent; there are no two ways around it. MacKinnon very well could be the No. 1 pick, but I still like Drouin and defenseman Seth Jones just enough to put them ahead. It is very, very close, though. What MacKinnon did at the Memorial Cup was him showing his best. That's what everyone hoped to see, and he delivered. He is perhaps the draft's best skater, has a nose for the net and some grit to his elite offensive game. MacKinnon is a special player and will make whichever team that he goes to instantly better.

3. Valeri Nichushkin - RW - Traktor (KHL) - 6-3, 196 - OR: 4

I spent the most time debating between Nichushkin and Aleksander Barkov for No. 3 but chose Nichushkin for his vast potential. Nichushkin could be a dominant player in the NHL. He has tremendous speed to go along with his big frame, and then he adds some high-quality puck skills and finish. The Russian factor is going to make teams nervous, but I think letting him fall past No. 4 or 5 would be a mistake. He's the best Russian prospect that I've seen in five years, at least.

4. Aleksander Barkov - C – Tappara (SML) - 6-2, 205 - OR: 5

He's NHL ready. Barkov is a terrific two-way center with solid puck skills. His skating could probably be a touch better to increase his potential, but he is already physically strong and averaged nearly a point per game in the top Finnish pro league. That is no small feat for a 17-year-old. Some scouts have him rated in the top three. And, as I mentioned, it was very difficult to kick him down to No. 4. He's a terrific prospect.

5. Elias Lindholm - C – Brynas (SEL) - 6-0, 181 - OR: 6

The European entries this year are fantastic with the two previous players mentioned, and Lindholm tends to be forgotten a bit. He plays the game at a level beyond his years and shows such tremendous upside at the center position. Lindholm has good two-way instincts and some projectable puck skills that show he could produce at a decent clip in the NHL.

6. Sean Monahan - C – Ottawa (OHL) - 6-4, 187 - OR: 7

Monahan is another solid NHL-ready prospect who does just about everything well. He has good size, speed and strength and isn't afraid to engage physically. He put up 78 points in the OHL for the second straight season, which put some on alert about his potential progression, but he didn't have a great supporting cast in Ottawa. He should have a chance to contribute immediately in the NHL.

7. Hunter Shinkaruk - LW - Medicine Hat Tigers (WHL) - 5-10, 182 - OR: 9

Shinkaruk's projections are all over the map, but I see him as a potential 30-goal scorer in the NHL. Consistency issues got to him a bit this season as his production dipped slightly in the WHL, but he has such good speed and hands. There's a lot of offensive potential with Shinkaruk, and he could develop into a dynamic NHL talent.

8. Max Domi – C – London Knights (OHL) – 5-9, 195 - OR: 10

One of the draft's most creative players, Domi adds a lot of tenacity to his skill. His style of play will make teams overlook his relative lack of size. He followed up a 49-point rookie season in the OHL with an 87-point outburst in 2012-13. This might be a slightly optimistic ranking, but he has skill that's worth taking a chance on. 

9. Bo Horvat – C – London Knights (OHL) – 6-0, 206 – OR: 13

Despite some really sound two-way capabilities, Horvat's offense really jumped up a notch this season. With 33 goals and 61 points in the OHL, that type of production with his good hockey IQ has made him a late riser. Horvat commits himself to play at both ends of the ice, doesn't shy away from the physical game and has a really terrific release.

10. Pavel Buchnevich - LW - Cherepovets (KHL) – 6-1, 161 - 0R: 15

As pure a goal scorer as there is in the draft, Buchnevich is a really exciting talent. Though his being Russian could hurt his draft stock, Buchnevich could be a highly-productive player in the NHL. He has a good frame he is still growing into, strong puck skills and an NHL-ready shot.
The former Boston Bruin was the first black player to play in the NHL

Inclement weather led to the Charlotte Checkers and Bridgeport Sound Tigers playing in front...

The NHL chose the Detroit rocker as its All-Star Game entertainment and not everyone is th...
NHL fans from all over seem to agree on one thing: Hating Kid Rock

The team tweeted on Monday that Shaw would be re-evaluated in 7-10 days

The Montreal forward was hospitalized after taking a Zdeno Chara slap shot to the head