Jonathan Ericsson names daughter after late friend Stefan Liv
Jonathan Ericsson and his fiance just welcomed a girl into the world named Liv, named in honor of the late Stefan Liv, who perished in the Yaroslavl plane crash.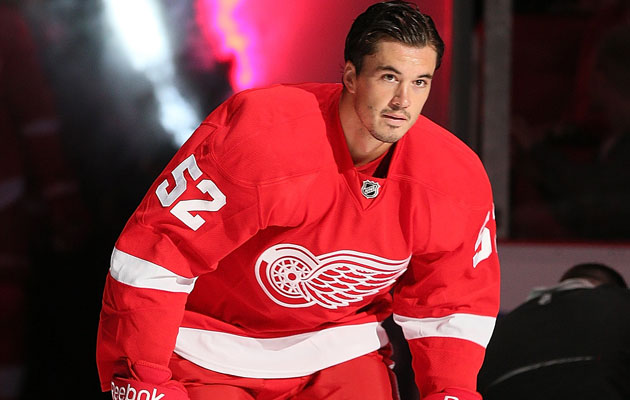 More NHL: Scores | Standings | League Leaders | Odds | Injuries | Power Rankings
Detroit Red Wings defenseman Jonathan Ericsson and his fiancee just welcomed a new baby girl into their world this week. For a lot of people finding the perfect name for your new bundle of joy can be a long, arduous process. Ericsson and his fiance didn't have any such problem.
Ericsson returned to the Wings' facility on Tuesday and explained to Helene St. James of the Detroit Free-Press that their new daughter's name is Liv, named after a close family friend. No, not Liv Tyler but former Swedish national goaltender Stefan Liv.
Ericsson got a little emotional when explaining the naming decision as you can see in this video.
"We like the name Liv but it also has some history with our very good friend, Stefan Liv, so it's kind of in honor of him" Ericsson explained. "He was a good friend, a guy we really respected a lot. As I said we really liked the name and then with the meaning to it, it felt even better."
Alright, who's cutting onions around here?
Stefan, who was drafted by the Red Wings and spent one season in their organization in North America, was part of the Yaroslavl Lokomotiv team whose airplane crashed in Russia a couple of years ago. He lost his life along with the rest of his teammates who were aboard the plane in one of the worst disasters sports has seen.
Stefan was born in Poland but was a Swedish national like Ericsson. Liv played on the Swedish Olympic team that won gold in 2006 in Torino, Liv serving as the third goalie. He also was part of Sweden's 2010 team in Vancouver.
Ericsson, meanwhile, is going to miss the next 2-3 weeks with an injury, giving him plenty of time over the next few weeks to spend with Liv.
Rage is all the rage in Montreal

Buffalo's 20-year-old phenom pulls off the highlight of the night against Vancouver

The North American love affair with Edmonton's superhuman center continues to grow
The defending Western Conference champion Predators are also heating up early in the year

The Oilers' young star remains seriously unfair

David Kelly, a Toronto-born hockey analyst, has strong advice for Edmonton vs. Chicago game...