Jonathan Quick to miss at least another month per Kings GM
Jonathan Quick has already missed four games with a groin strain and he might miss a lot more. Kings GM Dean Lombardi says he'll miss at least another month.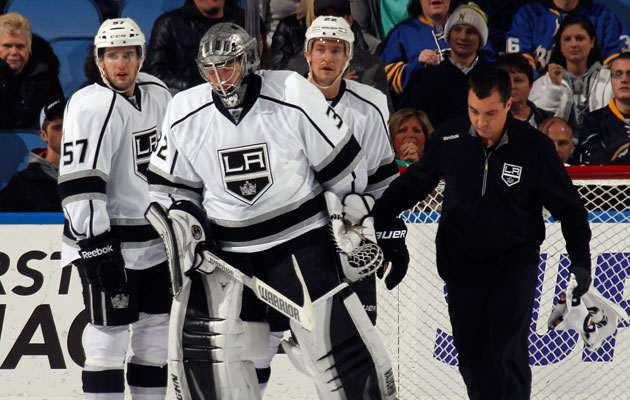 More NHL: Scores | Standings | League Leaders | Odds | Injuries | Power Rankings
When it was originally announced by the Los Angeles Kings that goaltender Jonathan Quick had suffered a Grade 2 groin strain, it was clear he was going to miss some time but the Kings didn't actually have a timetable to offer.
The hopeful estimations put a return in about three weeks from the original injury. Looks like that will remain just hopeful.
Kings general manager Dean Lombardi was on Sportsnet's HockeyCentral that it's going to be quite a while longer before Quick returns in the Kings net.
Wow... Dean Lombardi just told HockeyCentral at noon that Jonathan Quick will be out at least another month.

— John Shannon (@JSportsnet) November 20, 2013
Not just another month but at least another month. It could potentially be longer. Obviously groin issues are especially tough for goaltenders making a recovery slower and more deliberate. Still, for a Grade 2 strain, that seems to be longer than most anticipated.
First and foremost the concern is with the Kings, who have turned to Ben Scrivens in the meantime (and that has gone very well so far), but the Olympics are impacted by this too. Quick came into the season penciled in by almost everybody as the starter for Team USA in Sochi this February but his early season struggles combined with this injury really muddy up the waters.
Ryan Miller has played his way into the favorite to be the starter once again while Quick still remains a distinct possibility to make the team, especially since no other American goalie has been lighting the world on fire this season. However the Olympic brass made it clear; who makes the team in net will depend heavily on how they play this season and given the fact that the roster will be announced in six weeks time, Quick's place on the roster is starting to look at least a little shaky.
As for the Kings, as mentioned they haven't had a tough time sans Quick. They have won all four games since Quick was injured and in that time they have given up just four goals. Still, we've all seen what Quick can do and they'd be well-served to get their No. 1 goalie back as soon as possible. It's just that ASAP might not be as soon as was hoped for.
It seems it's all as wild as it sounds, with Canadian actor Zack Ward heading a 'West Coast...

Lots of moving parts may be the biggest hurdle for Carey Price and Co., a defensively geared...

The Penguins have some fun with the names of some Ducks linemen
Rookie Tyler Wong scores a hat trick to lift the NHL's newest team in its exhibition debut

Depth is a concern, but Edmonton is all in on its young, speedy stars with Stanley Cup pot...

The longtime Olympics enthusiast and Capitals standout releases a statement on the 2018 Ga...