KHL's Dynamo Moscow wants to talk to Alex Ovechkin about returning
Alex Ovechkin said during the lockout he would consider staying in the KHL. An official for Dynamo Moscow would like to discuss it with Ovi.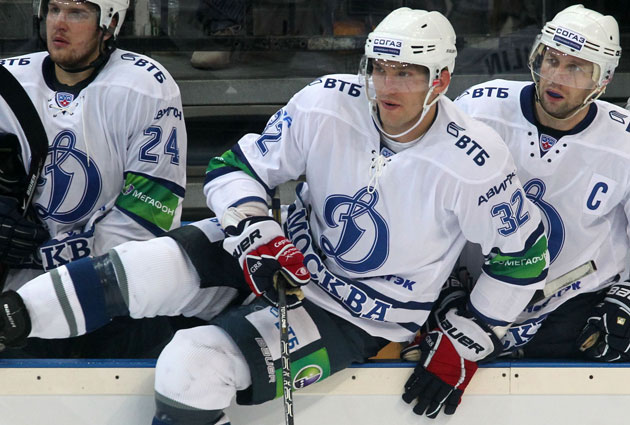 More NHL offseason: Rumors | Top 50 Free Agents | Buyout Tracker | Trades | Transactions
Remember when Alex Ovechkin said during the lockout that he was considering just staying in the KHL instead of returning to the Washington Capitals? He said it but not nobody hardly anybody thought twice about it, dismissing it as nothing more than a very idle threat to gain some leverage for the players.
Although there might have been one person listening; Dynamo Moscow general director Andrey Safronov. Ovechkin come up with Dynamo Moscow and then joined them once again during the lockout and if Safronov had his way, Ovi would be rejoining the team again soon.
Speaking at a fan function, here's what Safronov had to say regarding the captain of the Capitals as quoted by ITAR-TASS in Russia and translated by Capitals blog Russian Machine Never Breaks.
Ovechkin has a current contract with the Capitals. Can we try to pull him out? We'll talk, we'll look at each other and will have some result. Right now all Russian national team players want to come back to their homeland. KHL shows its force and credibility. And finances are important too. Taking taxes in account, playing in Russia has become way more attractive for players.
Before this summer, this would have been so laughable that it would have possibly been ignored. Then Ilya Kovalchuk retired from the Devils and signed in the KHL. Still, this is very likely nothing more than simple wishful thinking, and perhaps dangerously crossing any cross-league lines. There is an agreement between the NHL and KHL to honor existing contracts so talking to a player under contract about finding a way out wouldn't really go along with the flow on that front.
Nor is it likely that Ovechkin would want to leave the Capitals. He might have had his gripes during the lockout which is understandable, but he still has eight years left on a contract in Washington and nearly $80 million to come. Yes, that could be mitigated by a deal in the KHL but Ovechkin seems pretty well intent on winning in Washington and just had a return to form last season under coach Adam Oates.
It's important to remember that Kovalchuk was absolutely the exception to the rules not the new norm. Expecting any other players to make the same move is nothing but wishful thinking, especially when you see other Russian guys who some pegged to follow in Kovalchuk's footsteps -- see: Evgeni Malkin and Pavel Datsyuk -- signed extensions to stay in the NHL. Just because he went doesn't mean everybody else is dying to go to the KHL too. The league might have made some strides but it's still far behind the NHL in a lot of aspects.
Without the star power of the NHL, America is banking on big contributions from some AHL, KHL...

Lincoln Financial Field will play host to the annual outdoor game on Feb. 23, 2019

The Lightning stay on top as other teams begin to catch fire
The NHL said the Flyers defenseman was 'reckless' and used 'excessive force'

'How you gon' do that hockey?'