Kings are kongs at home, beat Hawks to get back in Western finals
The Kings took over Game 3 and perhaps the series with this 3-1 victory. The team that was supposedly bloodied and beaten up had more energy than the Blackhawks.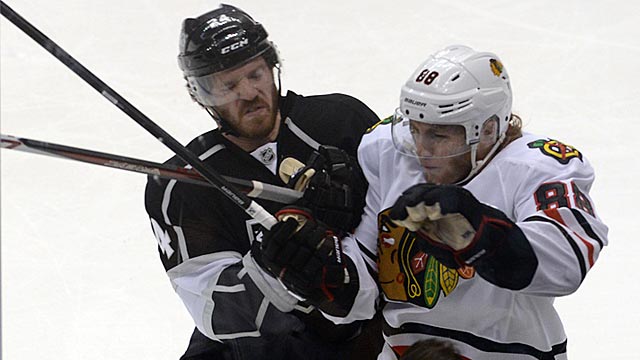 LOS ANGELES -- Jeff Carter wasn't available for comment on Tuesday night, which was probably a good thing. The Los Angeles Kings center was busy having his face sewn together, and who wanted to see the results of that?
Carter had been the victim of one of those good old-fashioned hockey plays that give the game such a bad name.
Goonish. Thuggish. Duncan Keithish.
That last one isn't altogether fair because Keith, the Blackhawks' rock defenseman, isn't known for such goonery or thuggery. But there it was, right at center ice on Tuesday as he high-sticked Carter in the second period of Game 3 in the Western Conference finals. High-sticked might be a charitable term. Keith performed surgery up around Carter's face, earning a double-minor.
The Kings didn't score on the power play, but they did take over in a 3-1 victory against the Blackhawks. The question is, take over what? The game? The series? Maybe the Kings only found themselves, their identity. They were supposed to be the beaten-up, frustrated ones at this point in the series. They had lost five of their previous seven games and were down 2-0 in the best-of-7 series coming into Tuesday.
But there is something about playing here at Staples Center. The Kings are kongs. They have more energy. This place was the launching point for a Stanley Cup run last season. It's looking that way again if they can, you know, win a few on the road. For now, the Kings are unbeaten at home in the playoffs. Tuesday's victory marked their 15th home win in a row overall dating to March 23.
If there is a power outage in Chicago, the Kings have a perfect place to stage the rest of this series.
No one is surprised the Kings got back in the series, including, perhaps, Keith. His out-of-character high stick characterized the Blackhawks' night. They weren't desperate enough. They certainly weren't disciplined enough.
"Obviously, it was a dirty play," Kings center Jarret Stoll said, "but I'm not sure Keith wanted to do that."
Neither was anyone, including Keith. He seemed to bend over and apologize to his victim after Carter crumpled to the ice.
"Yeah, it was accidental," Keith said. "Obviously, I wanted to give him a tap but not where I got him. I felt bad."
"Knowing the guy Jeff is, maybe it upset us a little more because he's not the type of guy to take a cheap shot," Kings defenseman Rob Scuderi said. "History has shown that neither is Keith, but we'll take anything we can get to build momentum for our side."
Through the first two games in Chicago, the Kings were flat-out sluggish. The popular theory is that they had to work too hard to get to this point. Their physical style of play had punished opponents but also caught up to them. Leading playoff scorer Mike Richards was scratched from Game 3 for what was supposed to be an upper-body injury.
Last year, the Kings lost four playoff games on their way to the Cup. This year, they've already lost seven but remain two games away from elimination.
But Justin Williams scored 3½ minutes into the game to set the tone. Defenseman Slava Voynov broke his stick while shooting in the second period. The resulting change-up -- a "broken-bat single" Williams called it -- scooted past Corey Crawford for a 2-0 lead.
"We were just quicker," Williams said. "We were quicker everywhere on the ice."
Quicker to the point that it took the Hawks more than 15 minutes to get their second shot in the middle period.
"We didn't deserve whatever came out of those first two periods," said Bryan Bickell, who scored the Hawks' only goal with 34 seconds left in the second. "They had the spark being at home."
Voynov's goal came shortly before Keith and Carter were engaged in a scrum in front of the Chicago goal. As they skated up the ice, Keith reached down to pick up a lost glove. Carter hit it with his stick. Then, Keith went medieval.
"Discipline," Scuderi said, "is always a massive factor in a game," Scuderi said. "Unfortunately, we weren't able to score on that power play, but that's four minutes they didn't have anything on us in a game we were leading."
The Hawks didn't have that discipline for the most part. Their top line of Bickell, Jonathan Toews and Marian Hossa didn't wake up fully until the third period. When they surged, Jonathan Quick was there to play like Jonathan Quick, stopping 19 shots. His biggest stop was on Bickell with three minutes left to keep it 2-1.
But through large stretches of the first half of the game, Carter -- two assists, plus-2 -- was the best player on the ice.
Maybe that explains why Keith carved him and the Kings are back in the series.
The Senators defenseman was thrilled to learn that he'll be the father of a baby boy

Washington, Nashville and Tampa Bay are still rolling with winning streaks atop the NHL

Saturday's showdown will serve as a rematch of one of the NHL's first-ever regular season...
Stacia Robitaille says Donald Trump told her in an elevator that she was coming home with...

Vladislav Yeryomenko was the Teddy Bear Toss goal scorer for the Calgary Hitmen

The Golden Knights are finally getting their No. 1 goalie back after a 25-game absence