Kings deliver tickets to Rainn Wilson, a.k.a. Dwight Schrute, in Jell-O
Rainn Wilson, the actor who plays Dwight Schrute on the 'Office' asked the Kings if he should finally go to a hockey game. They obliged by delivering him tickets for Game 4 ... wrapped in Jell-O.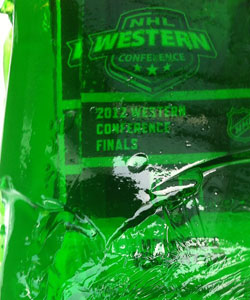 Yes, those are tickets inside the Jell-O. (Instagram)
I feel like we write these words every day on this blog: The Los Angeles Kings social outreach staff is just awesome. Every day they give us another reason to say as much.
Like this weekend, for example.
Rainn Wilson, the actor known more as Dwight Schrute from the Office than his real name, has a strong presence on Twitter. He shares his thoughts on life, and often about sports, to his numerous followers.
But he realized something was missing, he had never been to a hockey game. So what better time to hope on the bandwagon than when the Kings had a chance to move on to the Stanley Cup Finals?
So he used his account to reach out to the Kings and ask if he should get tickets to Game 4. The Kings did one better.
Much, much better.
@rainnwilson We can give you tickets - if you let us deliver them to you in a bowl ofjello.

— LA Kings (@LAKings) May 16, 2012
As you can tell from the picture above, the Kings were serious as a heart attack. They really did deliver tickets to Wilson in Jell-O.
If you are curious as to why on earth they would want to deliver the tickets in Jell-O, well you need to watch the Office a little bit. Either that or you can just watch this video, that will explain it pretty well, too.
Well that was just awesome, Kings. Way to go. And having Luc Robitaille get in on the delivery of the tickets? This team really understands how to make a name for themselves. Now if the local media would only listen ...
The other benefit to this other than the joy of seeing tickets in green Jell-O? Wilson's tweets from the game. Go back and check his time line for a few of the good ones like this:
The @LAKings uniforms are pretty badass. Like they were designed by Rob Zombie, the Oakland Raiders & Prince.

— RainnWilson (@rainnwilson) May 20, 2012
H/t to Pro Hockey Talk
For more hockey news, rumors and analysis, follow @EyeOnHockey and @BrianStubitsNHL on Twitter and like us on Facebook.
The city has already received approval from the NHL to file for an expansion team

Bovada says the two nicknames are favored to be used, with Rainiers coming in third place

Here's everything you need to know to watch the NHL's marquee midseason event
The expansion Golden Knights officially moved into first place in the NHL on Sunday

The former Boston Bruin was the first black player to play in the NHL

Inclement weather led to the Charlotte Checkers and Bridgeport Sound Tigers playing in front...