Kings finish off tremendous postseason with Stanley Cup on home ice
After 45 years, the L.A. Kings are finally champions of hockey.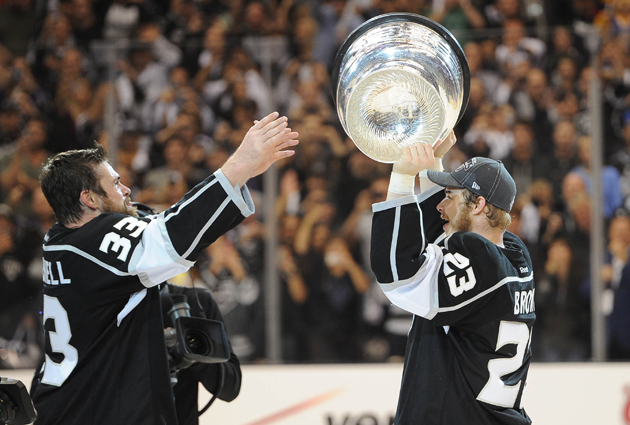 L.A. captain Dustin Brown hands the Stanley Cup to teammate Willie Mitchell (US Presswire)
LOS ANGELES -- Sometimes truth is stranger than fiction. And this city specializes in fiction. If this isn't stranger, than it's at least more unbelievable.
The Los Angeles Kings crushed the New Jersey Devils 6-1 in Game 6, finally finishing off a series that looked long dead a couple of games ago before being charged back to life like a patient under the paddles. It is almost inspiring of a city-wide sigh of relief.
Of course, it's also the first Stanley Cup in Kings history, a culmination of 4 1/2 decades of hockey in the Golden State's biggest city. So in that regard, as they'd say in Malibu, party on dudes!
This championship is a story that not even Hollywood -- apologies, Hockeywood -- would make into a movie. The lowest seed in the conference dominating every team thrown in front of it en route to the first Stanley Cup in franchise history for the non-traditional hockey city? It's literally so unbelievable, the pitchman would have been laughed out of the room.
Really, it's hard to comprehend what the Kings have just done. This postseason, this 16-4 record to romp to Lord Stanley's Cup is simply stunning. Hyperbole is used too often in sports, but it is no hyperbole to suggest this is one of the most impressive runs we've ever seen in the Stanley Cup playoffs. The last couple of games took a little luster off but it's still one hell of a feat.
More on Kings-Devils
More NHL coverage
Remember, the Kings were the lowest seed in the Western Conference this season. An 8 seed in name only, sure, but an 8 seed nonetheless. It's like that girl from middle America moving to L.A. hoping to be found and catching her break to make it big. Just get there and see what happens.
This incredible run is exactly what happened.
"We wanted to be 16-2. We were getting kind of greedy and wanted to go in the record books," a smiling Dustin Penner said on the ice after the game. "We are now. It was an unbelievable run. It wasn't as easy as maybe some people thought but it was more fun than anybody could imagine."
"These guys, you know what, since March 1st, they've lost about six games," coach Darryl Sutter said. "They've taken a lot of public negativity towards them. Look what they've just done. Pretty awesome. Tells you what type of players they are."
The Devils were like some horror movie villain that wouldn't go down. It took the Kings a few extra games to finally finish the series. But hey, what's a few more days of waiting after nearly half a century?
"It's special winning on home ice," captain Dustin Brown said after the game. "The city of Los Angeles has been waiting for this for 45 years. There are about 20 million dreams coming true tonight."
"It's great to finally give back a championship," added Rob Scuderi, sporting fresh stiches on the bridge of his nose and a trickle of blood in his mustache.
Who says 45 is over the hill? For the Kings that's apparently their prime because just after celebrating their 45th birthday, they are finally champions of the National Hockey League. They really only came close once before, losing to the Canadiens in the 1993 Final.
This is for Terry Sawchuk, the first King 45 years ago when the franchise was born. He played one rather inglorious season for the Kings, but he still has the honor of being the franchise's first.
It's for Wayne Gretzky, the Great One who brought L.A. closer to the Cup than it had ever been before and brought the hockey bug to Southern California like it had never been seen before. He couldn't do it, but these guys did.
It's for Luc Robitaille, who was part of that 1993 finalist and is still part of the team in the front office. He's put a ton of blood, sweat, tears and hard work into the franchise to make this dream a reality.
It's for Marcel Dionne, the first great Kings player who was cheering the Kings on the whole way to see them finally achieve their glory.
It's for the city's often neglected/disrespected hockey fan base that has hung through all the years of not winning, something they aren't used to in Los Angeles, what with the Kings' fellow tenants in the Lakers, USC football and UCLA basketball. Just take a stroll through any of the local watering holes anywhere in this massive city on a Kings game day this postseason and you won't be able to find a seat.
"It's awesome," Scuderi said. "I know it's Southern California and it gets a bad rap for not having a whole lot of hockey fans but there are great fans here, they've been patient for a long time."
And of course it's for the players who got to realize the dream of every hockey player from the ponds to the biggest rinks in the world.
"This is the ultimate, this is unbelievable," Mike Richards gushed. "I've thought about this moment a million times since I was 5 years old. That didn't even come close to feeling as good as it really did."
"Words can't really express it," Brown added, showing why that old Stanley Cup playoff ad was the best ever. "It's one of things; words can't express it."
This is where it gets better.
These glory days? There's nothing to make you think they're coming to an end anytime soon. L.A. is set up to be this good for years. Consider the core players, Anze Kopitar, Mike Richards, Jeff Carter, Justin Williams, Brown and Drew Doughty are each signed for at least another two seasons. They should have plenty of space under the cap to throw at the Conn Smythe winner, Jonathan Quick, to lock him down for the foreseeable future as he'll be due a massive raise with his contract up after next season.
"I think it's going to be expected. We should be one of the favorites next year," Penner said. "We were this year and we didn't live up to our reputation until we came in as an 8 seed. But we're not going to worry about next year for a while now."
"The first thing you think about as a coach, these guys are all young enough, they've got to try it again," Sutter said.
It's a core that has been in the making for a while but perhaps some were starting to doubt if they would ever reach their vast potential. Go back just a few months and Brown was on the trading block while GM Dean Lombardi was already being fired by some as the team struggled to stay in playoff position. Terry Murray was dismissed as the coach and Sutter was brought in. This win after all of the moves, both over the years and within the last year, have made Lombardi look like the genius that he is -- no really, remember the coulombs? -- not long after the perception was, well, the opposite.
"Well, it was a long road even before that," Quick said of the coaching change. "Obviously, Darryl came in. You know, I felt like everybody felt a little more accountable for their own actions, their day-to-day play, practice, everything.
"But obviously at the end of the day, you know, no matter what, it's got  to  come  from  the room and guys have to make a decision to work. I think we did that. You can't say enough about this group and how hard they worked."
It was a season that had ups and downs like the rollercoaster at the Santa Monica Pier, wavier than the shores of San Clemente.
But of late it's like they caught the biggest wave of their lives and have ridden it in all the way to the shore in style. You know that guy who stands up the board and cruises to the shore with ease? That's the Kings.
It is a bit of an insult to the Kings to say that Al Michaels' presence in the building on Monday night was too poetic, what with his Miracle call more than 30 years ago. But impressive, amazing and other such words don't seem to do it justice.
Maybe we'll apply another term from Hockeywood and just call it epic.
For more hockey news, rumors and analysis, follow @EyeOnHockey and @BrianStubitsNHL on Twitter and like us on Facebook.
NHL fans from all over seem to agree on one thing: Hating Kid Rock

The team tweeted on Monday that Shaw would be re-evaluated in 7-10 days

The Montreal forward was hospitalized after taking a Zdeno Chara slap shot to the head
Tampa Bay is still No. 1 and Vegas is still up there, but a few others are finally catching...

Army filed an opposition to the use of 'Golden Knights' on the last day that it was permitted...

The NBC rinkside reporter is hoping to return in time for the 2018 Olympics