Kings GM: Canadian dollar will keep salary cap below initial projection
The Board of Governors was told in December that the salary cap would like rise to around $71 million next season. But the Canadian dollar will decrease that a lot per Kings GM Dean Lombardi.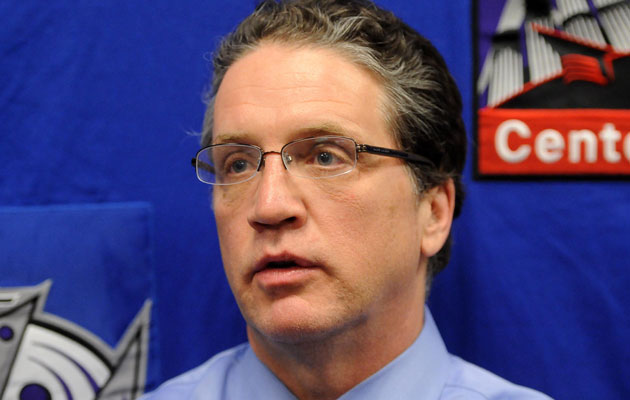 More NHL: Trades | Scores | Standings | League Leaders | Odds  | Power Rankings
Something that you've probably heard non-stop all season long regarding new contracts and adding big-money players has been something along the lines of "don't worry, the cap is going way up." Indeed, the NHL Board of Governors were informed that the cap was very likely going to expand to a ceiling of around $71 million next season, way up from the $64.3 million this season.
Well not so fast. One of the NHL's smartest GM, Dean Lombardi, (we mean that in the 'he's so smart he talks about coulumbs sense" and the "he wanted Keith Yandle for Team USA" sense) is planning well ahead again and got to the bottom of it.
Talking about his Kings roster and the pending FAs they have, Lombardi said the salary cap isn't going to climb anywhere near as high as everybody believed. As he told the LA Times, you really can take the South Park advice and Blame Canada.
Asked about his contract negotiations with defenseman Matt Greene, who is eligible for unrestricted free agency this summer, Lombardi said he was told the salary cap, initially projected to rise to about $71 million next season, will be significantly lower because of the recent weakness of the Canadian dollar. Lombardi said he verified that through the league. The drop will affect whether he can keep Greene, Willie Mitchell and Trevor Lewis, and it undoubtedly affected deadline-day decisions around the league.

"We found out, to our chagrin and surprise the other day, we had been told the cap was going to be $71 [million] and now with the Canadian dollar having tanked, that the cap could be as low as $68 [million]. That's a huge swing," Lombardi said. "So that's more of the talks with our three guys, Mitchell, Lewis and Greene, who we'd all like to bring back. That's more of a hindrance than anything we acquired today."
What they acquired [yesterday] was, of course, Marian Gaborik from the Blue Jackets. He too is a free agent after this season who right now has an annual salary of $7.5 million.
This is going to affect teams all over the league. You better believe GMs everywhere were planning on having that cap all the way up there, particularly after the cap crunch this season has put more than half the league up against the ceiling. The amount of money they'll have to try and entice the big free agents has decreased from what they thought they'd have. Perhaps that'll be an advantage for the teams already with spending space available.
It will still be a while before the cap number is officially set -- after the season when revenues are all in -- but it's not going to be the dramatic increase everybody though, which could reduce some of the free-agent frenzy fun. Thanks, Canada.
It seems it's all as wild as it sounds, with Canadian actor Zack Ward heading a 'West Coast...

Lots of moving parts may be the biggest hurdle for Carey Price and Co., a defensively geared...

The Penguins have some fun with the names of some Ducks linemen
Rookie Tyler Wong scores a hat trick to lift the NHL's newest team in its exhibition debut

Depth is a concern, but Edmonton is all in on its young, speedy stars with Stanley Cup pot...

The longtime Olympics enthusiast and Capitals standout releases a statement on the 2018 Ga...