Kings' pointless streak hits five games, but all is still (relatively) well
The Los Angeles Kings lost a fifth straight game in St. Louis on Thursday 5-0, causing a small sense of concern but the Kings should be fine when they snap the skid.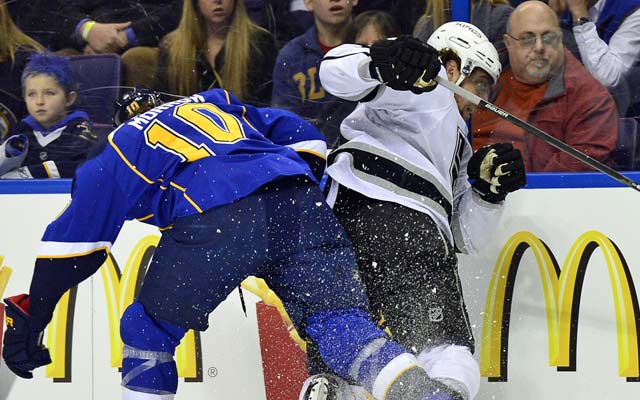 More NHL: Scores | Standings | League Leaders | Odds | Injuries | Power Rankings
On Thursday night in St. Louis, the Los Angeles Kings were beaten soundly by the Blues minus their leading goal scorer, Alexander Steen, giving the champions from two seasons ago a fifth straight loss, each in regulation.
When a presumed Cup contender going pointless in a five-game stretch, some people start to wonder if the kingdom is crumbling. For as we know, in the West this season it's so competitive that any prolonged stretch of losing hockey can be crippling. It's a question being raised: should LA be concerned?
As the surfers in Malibu would say: relax dude. Right now the Kings are paying the penance a bit for an unreal stretch of goaltending. Things almost always have a tendency to balance out over the course of an 82-game season and in some small measure, the Kings are learning that now.
Regression to the mean is something that coach Darryl Sutter recognized was beginning to happen to his club. You can't lose a world-class goaltender like Jonathan Quick and then expect Ben Scrivens to continue to lead the league in save percentage or Martin Jones to win every single start.
"You know what? Our goaltending's leveled out," Sutter said earlier this week. "When you're not scoring goals -- we're not a team that scores a lot of goals -- you need more than average goaltending."
That's part of the problem. Both Scrivens and Jones were due for some regression. Really, the Kings should be happy at this point they've made it through Quick's injury issue as well as they have, this five-game stretch included in that conversation.
Something else to consider about this five-game stretch: four of the games have been on the road and against some pretty good competition. The Kings lost at the Blues, Stars, Blackhawks, Predators and the Stars at home as well. Especially with how Dallas is playing of late, that's not a collection of stiffs by any stretch.
Now comes a five-game homestand and Quick should be coming back very soon. The Kings are still comfortably ahead of the last playoff spot even if they're falling behind the division-leading Ducks. Bad stretches are going to happen, even to good teams. Remember, they had won nine of 10 games before this skid so you could look at matters and say the Kings are 9-6 in their last 15 which ain't so bad.  It's just a bad streak and those can build on teams or even players.
"We need to pick ourselves up, we need to get that confidence back," Drew Doughty said after the 5-0 loss in St. Louis. "When our team is playing with confidence throughout the whole lineup we're an amazing team and we have to remember that. We're playing like we're scared out there. Like we're scared to try things, that we're scared to do the right things and that's why we're losing and that's why we got smoked tonight."
Let's not forget that as of now, the Kings are still one of, if not the best possession team in the game according to the metrics. Those numbers are not perfect predictions by any stretch, but there is a strong correlation and teams that are strong in the possession department are very often fare very well. Everything should be OK in LA once this blip passes (the schedule doesn't get much easier for the foreseeable future).
None of this isn't to say there aren't some issues of concern for the Kings, as Sutter notes they don't score a lot. When that's the case, you run the risk of getting burned in close games or have trouble supporting goalies who might have the skids. The Kings aren't perfect, but what team is?
The team tweeted on Monday that Shaw would be re-evaluated in 7-10 days

The Montreal forward was hospitalized after taking a Zdeno Chara slap shot to the head

Tampa Bay is still No. 1 and Vegas is still up there, but a few others are finally catching...
Army filed an opposition to the use of 'Golden Knights' on the last day that it was permitted...

The NBC rinkside reporter is hoping to return in time for the 2018 Olympics

Here's who wade the cut for the 2018 NHL All-Star Game on Jan. 28 at Amalie Arena in Tampa...