Las Vegas could soon have an NHL-ready arena
There is an arena proposal that would suit the NHL in Las Vegas. Could Sin City enter the relocation/expansion conversation down the line?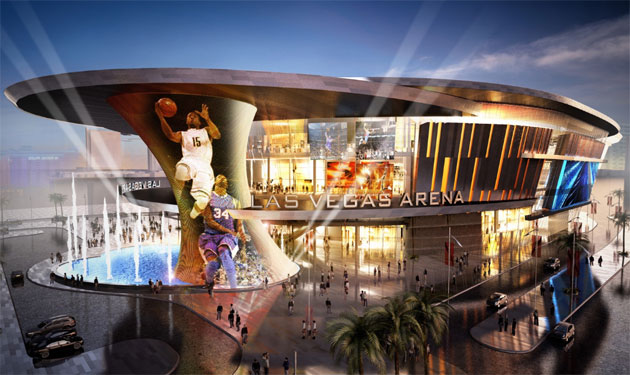 A rendering of the proposed arena. (Las Vegas Arena Foundation via Las Vegas Sun)
Quebec City is working on an arena that will be open for operation by 2015 in hopes of luring an NHL franchise back to town. Seattle continues to try and reach an agreement with investor Chris Hanson to eventually build an arena there that would be suitable for both the NHL and getting an NBA team back. The Toronto suburb of Markham is getting its own arena that would be NHL-ready.
Those are the very obvious reasons why Quebec City, Seattle and Markham are 1, 2 and 3 when discussing potential relocation of teams in hockey. Las Vegas might soon be in the conversation.
In similar fashion to Seattle, Las Vegas would like to get an NBA team in town. There has actually been discussion of Sin City getting pro basketball after the league has had events in Vegas including the All-Star Game. That just opens the door for the possibilities of a hockey team joining for the fun.
Getting a new building up in Vegas has been a conversation for some time. The latest proposal which seems to have some steam building would put a state-of-the-art building with a capacity of nearly 20,000 right on the Las Vegas strip.
Imagine that arena in the rendering above being right down the street from the world-famous images of Las Vegas. Personally, I love the fact that it comes with a fountain pool out front of the main entrance ... so Vegas.
Here are the basic details of the latest proposal courtesy of the Las Vegas Sun:
The Las Vegas Arena Foundation (LVAF) is proposing a 20,000-seat indoor arena to be built on the Strip on land owned by Caesars Entertainment behind Imperial Palace. The facility would be suitable for an NBA or NHL franchise, as well as other events such as concerts or the National Finals Rodeo, which has been at the Thomas & Mack Center since 1985. The LVAF is planning to fund the $500 million project by implementing a 0.9 percent sales tax for specified businesses within a three-mile radius of the proposed location.
The story goes on to outline the finer details including financing as well as the hurdles said proposal faces in addition to the support it already has. Basically, it's only in the very early stages and might not come to fruition but knowing Vegas a new arena will be coming one way or the other and the city will likely always be mentioned as a possibility for relocation.
If the league officials were to be honest with themselves I wonder how much of an appetite they would have for putting another team in the Southwestern desert. It's not to say there aren't good hockey fans in Las Vegas -- just like there are good fans in the Phoenix area -- but the question is if there are enough. By the rendering above it's pretty clear what the main goal of the arena would be ... the NBA, not the NHL.
I would think at this stage there is as good of a chance of a hockey team -- Coyotes, Islanders or possible expansion teams -- making Vegas its home as there is of snowball's chance in, well, Vegas. But if you build it they might come (sorry to you, Kansas City).
For more hockey news, rumors and analysis, follow @EyeOnHockey and @BrianStubitsNHL on Twitter and like us on Facebook.
Players are set to give personalized messages for Adidas' former hockey equipment brand

The 40-year-old center is returning to the Wild after a successful run in Pittsburgh

Edmonton locks up its 21-year-old RFA a month after McDavid's historic extension
Even with a new coach and added veteran help, the Canucks have a long road ahead

Unlike expansion teams before them, the Knights have enough talent to entertain right away

Brian Lawton says he 'would not be surprised' if Boston deals its young star to end contract...