Latest 2013 Stanley Cup odds: Penguins still favorites, Rangers move up
The latest Stanley Cup odds for 2012-13 are out, and the Pittsburgh Penguins remain the early favorites.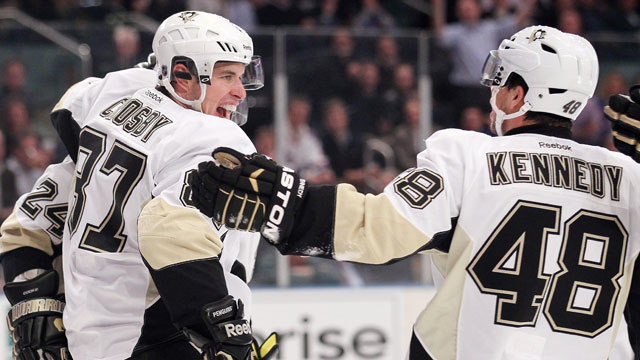 Penguins as Stanley Cup favorites for the 2012-13 season. (Getty Images)
Now that we're halfway through the offseason and many of the big free agent signings and trades have already taken place, the folks at Bovada have released their latest Stanley Cup odds for the 2012-13 season.
The original odds that came out back on June 12 can be found here.
The Pittsburgh Penguins remain at the top of the list with 8/1 odds, and are followed by the New York Rangers at 9/1, the Vancouver Canucks at 11/1 and the defending champion Los Angeles Kings at 12/1.
The complete list:
Pittsburgh Penguins                   8/1
New York Rangers                     9/1
Vancouver Canucks                   11/1
Los Angeles Kings                     12/1
Philadelphia Flyers                     13/1
Chicago Blackhawks                  14/1
Detroit Red Wings                      15/1
Boston Bruins                            16/1
St. Louis Blues                          16/1
Minnesota Wild                          18/1
San Jose Sharks                       20/1
Buffalo Sabres                           22/1
Carolina Hurricanes                    22/1
Nashville Predators                    25/1
Tampa Bay Lightning                  25/1
Washington Capitals                  25/1
New Jersey Devils                      28/1
Edmonton Oilers                        30/1
Toronto Maple Leafs                   35/1
Florida Panthers                        40/1
Anaheim Ducks                         40/1
Colorado Avalanche                    40/1
Montreal Canadiens                   40/1
Ottawa Senators                        40/1
Phoenix Coyotes                       40/1
Calgary Flames                         50/1
Dallas Stars                              50/1
Winnipeg Jets                            50/1
New York Islanders                    75/1
Columbus Blue Jackets              100/1
It's a little surprising to see the Penguins remain at the top with almost no change in their odds. Since the original odds came out in June Pittsburgh has lost Jordan Staal, Zbynek Michalek and Steve Sullivan from its roster and added only Brandon Sutter and Tanner Glass. They're still a major contender and one of the best teams in the league, but given their offseason to this point no change in their odds, and remaining the favorite in the league, is interesting.
The addition of Rick Nash in New York has moved the Rangers from a 12/1 favorite up to second on the list. On the other side of that trade Columbus went from 75/1 all the way down to 100/1.
Another team that saw a huge increase, naturally, is the Minnesota Wild. In June the Wild were tied for last in the NHL (along with the New York Islanders and Blue Jackets) at 75/1. Signing the top two players in free agency this summer, forward Zach Parise and defenseman Ryan Suter, has pushed them up to 18/1. Parise and Suter no doubt make them a better team, but they seem to be getting a little too much here.
And for a darkhorse? I still kind of like Carolina to make some noise after their moves this summer.
For more hockey news, rumors and analysis, follow @EyeOnHockey and @agretz on Twitter and like us on Facebook.
The expansion Golden Knights officially moved into first place in the NHL on Sunday

The former Boston Bruin was the first black player to play in the NHL

Inclement weather led to the Charlotte Checkers and Bridgeport Sound Tigers playing in front...
The NHL chose the Detroit rocker as its All-Star Game entertainment and not everyone is th...

NHL fans from all over seem to agree on one thing: Hating Kid Rock

The team tweeted on Monday that Shaw would be re-evaluated in 7-10 days