Leafs GM: There's room to re-sign both Nazem Kadri and Cody Franson
The Maple Leafs have two remaining RFAs -- Nazem Kadri and Cody Franson -- and not a lot of space. Dave Nonis doesn't see a problem.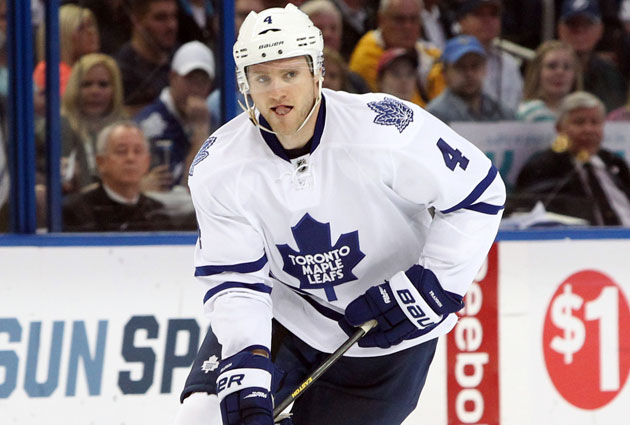 More NHL offseason: Rumors | Top 50 Free Agents | Buyout Tracker | Trades | Transactions
For weeks it has been all quiet on the contract fronts for the Toronto Maple Leafs as both Nazem Kadri and Cody Franson remain unsigned for next season while the team faces salary cap constraints. It has led to some speculation that the Leafs won't be able to re-sign both and could look to trade Franson.
However GM Dave Nonis still isn't concerned and doesn't foresee an issue with getting both players under the cap as he told NHL.com.
"From our standpoint, we have enough cap space in our minds to get both players signed and that's what we intend to do," Nonis said. "There are definitely ways of making it work. That's our intention.

"There have been quiet periods [in the negotiations], but that doesn't bother me at all," Nonis said. "That's par for the course in these types of situations. I also think it's a different year a little bit with the cap dropping [from $70.2 million to $64.3 million]. I think there is recalibration that needs to take place on both sides. You look around the League and I think that's happening. There are a lot of good UFAs [unrestricted free agents] that aren't signed because of the amount of money left in the marketplace."
For the record, as it stands the Leafs have $4.85 million in cap space right now to try and sign both of those players (though remember, they can exceed the cap by 10 percent as long as they get cap compliant by the season's start). It's really hard to see how Nonis has the cap room to get both players signed as he says, with the seasons each player is coming off they figure to make more than $4.85 million combined for next season.
While you shouldn't expect that Nonis would show his cards, if you take what he is saying at face value then you can put away the hopes you might have had for your favorite team to land Franson. It's certainly not something that he would want to do but if there was clearly enough room to re-sign both of these guys it would have been done by now.
There is still time to get deals done but it's already approaching late August, that time is starting to run thin.
Without the star power of the NHL, America is banking on big contributions from some AHL, KHL...

Lincoln Financial Field will play host to the annual outdoor game on Feb. 23, 2019

The Lightning stay on top as other teams begin to catch fire
The NHL said the Flyers defenseman was 'reckless' and used 'excessive force'

'How you gon' do that hockey?'