Leafs hope to start negotiations with Phil Kessel before season starts
Phil Kessel's contract is up after this season and he doesn't want to negotiate during the campaign. Leafs GM Dave Nonis hopes to start the talks before the season begins.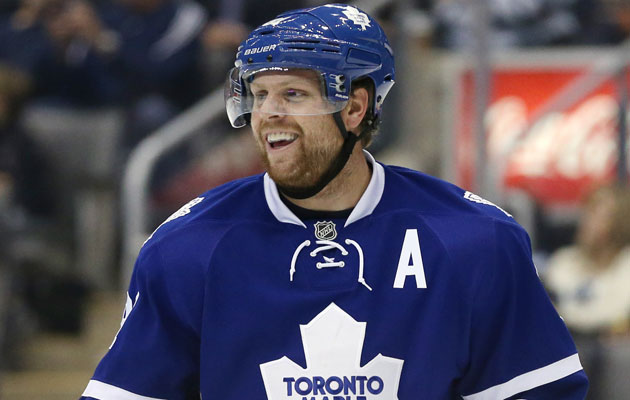 NHL previews: Atlantic Division | Metropolitan Division | Central Division | Pacific Division
The Toronto Maple Leafs just won't stay quiet. After a week with a brawl and two big players being re-signed, the focus turns to next summer for GM Dave Nonis and company. And when you look ahead to next summer one thing sticks out like a sore thumb: Phil Kessel doesn't have a contract.
Kessel, the Leafs' top player and attraction, is slated at this point to become an unrestricted free agent and would he ever be in high demand. On the open market he could get a massive deal and become one of the highest-paid players in the game -- scoring ability like his costs you.
That doesn't mean the Leafs don't want to keep Kessel, just thus far no deal has been worked out. That's because talks still haven't begun, or hadn't earlier this week when Kessel spoke about the brawl. Compounding matters, Kessel has made it clear he doesn't want to negotiate in the middle of the season.
Thus, Nonis has a few days left to try and re-sign Kessel or else it's going to hang over them in Toronto all season and the risk of him actually hitting free agency will become greater. That's why Nonis wants to get a deal while the window is still open. From Damien Cox of the Toronto Star:
So Nonis hopes to have at least one serious negotiating session with agent Wade Arnott this weekend or on Monday before the season opener. There has been little negotiating so far, although all indications are that Kessel wants to stay in Toronto.

But at what salary? And what term?
Obviously that's the golden question and perhaps Nonis is going to have a better idea once he meets with Kessel's agent, at least where they will start from. You figure, if Kessel does indeed want to stay in Toronto, that we'll be looking at a long-term deal, a max-length contract. You also figure we'll be looking at something in the $7.5 million-$8 million range (this is the new salary cap era without back-diving deals; get used to bigger cap hits).
Considering all of the planning that Nonis has to do for next year with numerous players becoming free agents, either restricted or unrestricted, like Dion Phaneuf, it's unlikely you'll see a deal struck right away or anything. The Leafs have to do a little bit of planning and figure out how to make it all work. In other words, this is likely to drag into the season and if Kessel is insistent on no negotiations, into next summer.
Sometimes a situation like that isn't a major issue; players are able to focus and forget about it. But it's not ideal in the least and if they had their druthers, Kessel would already be signed. But because of the tight cap situation this year, Nonis was sort of preoccupied with other things all offseason long, things that were just recently wrapped up.
It's good Nonis wants to get the talks started but as soon as they begin they'll shut down with the season around the corner. Still, best to get a feeler to remove at least a little of the uncertainty that comes with a contract season.
The Pittsburgh Penguins will put politics aside and visit the White House out of 'respect'...

NBC will reportedly be devoid of NHL game broadcasts between Feb. 7-26

The Winnipeg winger suggests Trump is going after 'the principles the U.S. was founded on'
League gets excited about exhibition matches in Beijing and Shanghai

NHL players are still disappointed they won't be going to skate in PyeongChang

With Artemi Panarin in the mix and a Vezina winner headlining the defense, Columbus can be...