Lewis Katz, former owner of Devils, Nets, dies in plane crash
The former co-owner of the NHL's New Jersey Devils and NBA's New Jersey Nets, Lewis Katz, died Sunday in a plane crash in Massachusetts.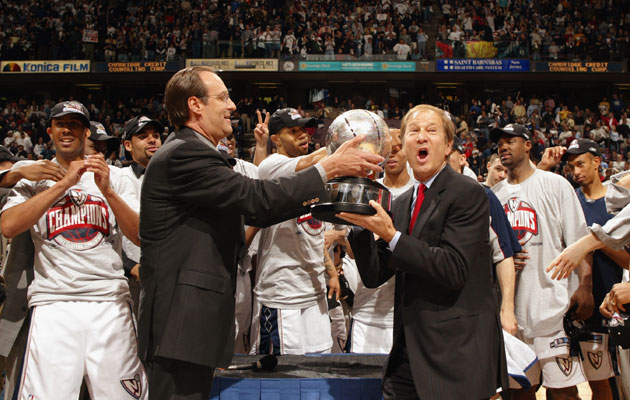 Lewis Katz, a former co-owner of the NHL's New Jersey Devils and NBA's New Jersey Nets, died in a plane crash in Massachusetts on Sunday.
Katz, who was also co-owner of the Philadelphia Inquirer, Philadelphia Daily News and Philly.com, invested in the two New Jersey sports teams back in 2000. He was part of the YankeeNets/Puck Holdings group along with Ray Chambers. The group purchased the Devils from their original owner Dr. John McMullen.
Katz's ownership involvement of both teams ended in 2003 when the YankeeNets group disintegrated with the Devils being sold to Jeff Vanderbeek and the Nets sold to Bruce Ratner. The Devils have since been sold again while the Nets were also sold and moved to Brooklyn.
On Sunday longtime Devils general manager Lou Lamoriello released the following statement on Katz's passing.
"I was shocked this morning to receive the news regarding the loss of one of our former owners, Lewis Katz, along with six others last night. I worked for Mr. Lewis Katz with both the Devils and New Jersey Nets, and experienced first-hand the influence he had on both organizations. Lewis was extremely active in the business community, a philanthropist, and a family man. On behalf of the entire Devils' organization, our thoughts and prayers go out to the Katz family, as well as the loved ones of the other six casualties."
He along with six other people, were onboard an airplane out of Bedford, Mass., that headed for Atlantic City, N.J. CBSNews.com has more on the frightful details:
The private jet, a Gulfstream IV, went off runway 11 in a wooded area, the FAA told CBS Boston.

Officials also did not speculate on what they think caused the crash. They said the National Transportation Safety Board will investigate and determine what happened.

Nearby residents recounted seeing a fireball and feeling the blast of the explosion shake their homes.
The names of the people onboard were not officially released by officials but the Philadelphia Inquirer announced that Katz was among the passengers.
Katz was 72.
The puck didn't go in the net but the skater did!

Another sign that Houston is a potential destination for an NHL relocation
The two teams combined for 111 penalty minutes and five ejections

The veteran Minnesota goaltender has recorded three consecutive shutouts

The historic start for the NHL's newest team has come largely from unprecedented balance in...