Lightning fire Guy Boucher less than two seasons after East final berth
Not even two years ago Guy Boucher was the toast of the NHL coaching community. Sunday he was fired by the Lightning because they couldn't fire the goaltending.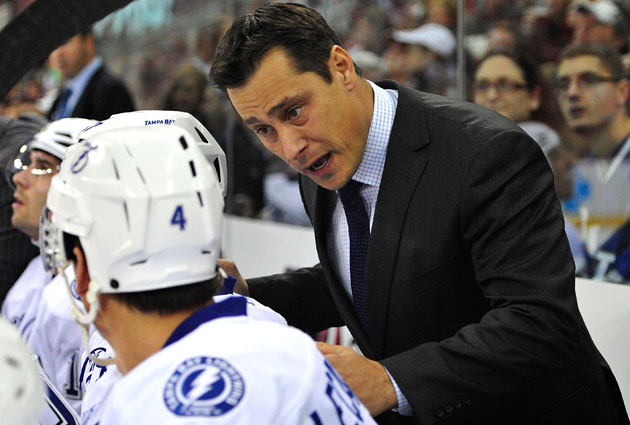 More NHL: Scores | Standings | Odds | Fight-O-Meter | League Leaders | Rumors
Not even two seasons after leading the Tampa Bay Lightning to within one game of the Stanley Cup Final -- no, one goal -- Guy Boucher was "released of his coaching duties" by the Lightning on Sunday morning. Or, in non-politically correct speech, he was fired.
On the surface it doesn't seem like much of a surprise. The Lightning followed up that Eastern Conference finals appearance with an abysmal season a year ago that left them way short of the playoffs. This season started well but as of now is not going any better. The Lightning are 13-17-1 with 27 points, ahead of only Florida in the East.
Smart money was on Boucher's seat being hot, and on Sunday that boiled over.
"Guy has poured his heart and soul into the Lightning organization for these past three years and we appreciate all the work he has done," GM Steve Yzerman said in making the announcement. "But ultimately I am not satisfied with the direction we are heading and I believe making a change today is in the best interest of our franchise."
Two years ago, this seemed almost unfathomable. Boucher came to the NHL after successful coaching stints in the QMJHL and then the AHL. He was recognized as one of the up-and-comers in the coaching business after both Columbus and Tampa sought him for their jobs. Now he's jobless.
As is seemingly always the case when a team struggles, Boucher is the fall guy. But is he really at fault? I don't think so.
It's been no secret that the Lightning have one of the greatest collections of offensive talent in the NHL between Steven Stamkos, Martin St. Louis, Vincent Lecavalier and now Teddy Purcell and Cory Conacher. And really, scoring goals was never the problem in Tampa.
Really, the issue was in net. And no, I don't think that was on Boucher or his coaching staff. Not many teams are going to win when your goalies are Dwayne Roloson in his 40s, Mathieu Garon and Anders Lindback.
In the three seasons Boucher coached the Lightning (OK, 2 1/2 seasons), they never had a save percentage higher than .903 as a team. To underscore, that's pretty bad. It's no coincidence the Lightning were at their best when they had a goalie on a hot run -- Roloson during the team's run to the East finals. When he had competent-to-good goaltending, his team was good enough to almost win the Cup.
As we all know, defense wins championships and your defense is going to look bad when the last line is a collection of sieves.
It is on Yzerman to find a solution to this goalie problem. He hoped acquiring Lindback from Nashville in the offseason was going to be that answer but it hasn't been. He has a .903 save percentage and 2.88 goals against average this season, certainly not stellar numbers.
Some of that is on the defensemen in front of the goalies. Mike Smith and Dan Ellis were both in Tampa Bay within the last three seasons and they struggled, too. Again, the defense is an issue Yzerman has tried to address and perhaps he feels like he did by signing Matt Carle and Sami Salo over the summer but it's not like those two are going to be labeled defensive stalwarts anytime soon.
The point is, Boucher never had much of a chance with the stable of goaltenders he has had. They should thank him for reaching that East final a couple years ago when perhaps they had little business getting there.
This wasn't an issue of losing the team or any other silly reason of that nature. It was simply about the Lightning not performing well enough. The oddity of their massive struggles this season is that the Lightning are actually outscoring their opponents. Usually a positive goal-differential is going to lead to a positive record. It just hasn't.
So maybe that's why Yzerman looks at it and thinks a change will do them good. Maybe he sees a team that already has $62 million committed next season to a salary cap that will be $64.3 million and expects it should be performing as well as it's paid.
Maybe he sees they are doing some things to win and maybe another coach will bring out more of that. Maybe a new coach won't allow the Lightning to give up four goals in the first period as they did Saturday in Ottawa, probably the final straw for Boucher.
Or maybe the Lightning will continue to underperform with the backstops they employ.
Outside of the goaltending concerns, the Lightning have a juicy roster for a lot of coaches at the moment. What coach aside from Barry Melrose wouldn't love to come in and work with Stamkos? Jon Cooper is on everybody's short list as a possible replacement, as is Lindy Ruff, the only other coach fired this season in the NHL.
Maybe a new coach can come in and do what Bruce Boudreau has done in Anaheim. He took over a team last season that was pretty much out of the playoffs but built on a late-season run and has the Ducks flying this season. The Lightning have some of the same ingredients.
At the same time, some other team is going to scoop up Boucher. He's a bright coach and that didn't change while he was in Tampa. It was just two years ago he was the toast of the coaching community. He just lost that "touch" when he wasn't given a good enough goalie.
Or if that doesn't work out, he could always go into the Robert De Niro impersonation business.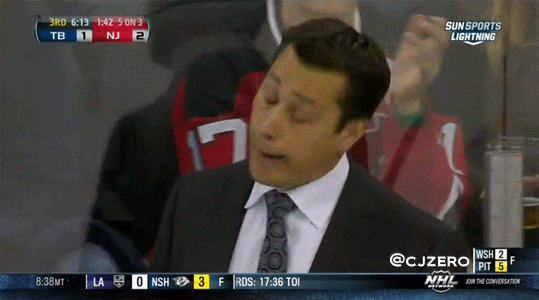 For more hockey news, rumors and analysis, follow @EyeOnHockey and @StubitsCBS on Twitter, subscribe to our YouTube account and like us on Facebook.
'How you gon' do that hockey?'

The puck didn't go in the net but the skater did!
Another sign that Houston is a potential destination for an NHL relocation

The two teams combined for 111 penalty minutes and five ejections

The veteran Minnesota goaltender has recorded three consecutive shutouts