Lightning star Steven Stamkos thinks he 'still has more'
Rather quietly, Steven Stamkos is off to another fantastic start with seven goals in eight games (16 points total). And he thinks he still has more to give.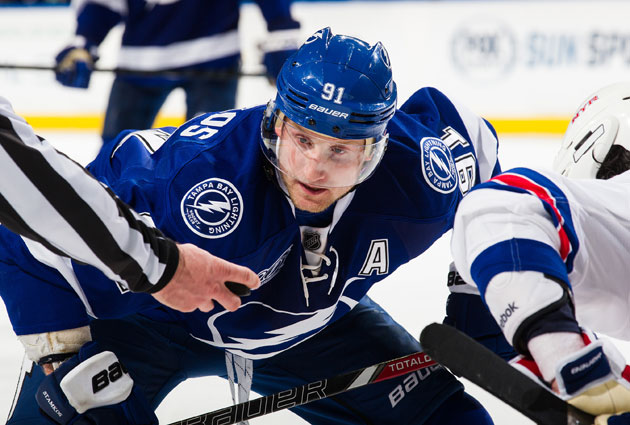 Stamkos would like to improve, and that includes his 48.9 faceoff percentage. (Getty Images)
More NHL: Scores | Standings | Odds | Fight-O-Meter | League Leaders | Rumors
Steven Stamkos is quietly off to another fantastic season.
It seems crazy to suggest that a player who scored 60 goals last season and plays on one of the top teams in the NHL so far this season can be off to a quiet start but that's the case with Stamkos. You could say that he hasn't even been the biggest story on the Tampa Bay Lightning. That probably belongs to rookie Cory Conacher.
Perhaps it's a product of Stamkos' relatively quiet personality or playing in a city like Tampa -- a good market for hockey but not a huge player on the league-wide media scene. Whatever it is, he goes about his business, and his business is better than just about anybody's in the game.
So far this season we've heard a lot about guys like Patrick Marleau, Thomas Vanek and Marian Hossa, and rightfully so. They have been excellent, but so has Stamkos. He has seven goals coupled with nine assists in the first eight games. That makes him the league's second-leading scorer behind only Vanek.
And yet Stamkos doesn't even think he's at his best. Here's what he told Martin Fennelly of the Tampa Tribune.
"I feel great," Stamkos said. "I think I still have more."

When you're coming off a 60-goal season, having already had a 50-goal season, people think nutty thoughts, like people Tweeting that 50 goals in 48 games for Stamkos, sure, why not?

"For them to think that is obviously the ultimate compliment, to think I'm capable of that, that they expect that from me," Stamkos said.
Coming into a strike-shortened 48-game season, the idea of a 50-goal season seemed assinine to me. It still seems far-fetched, but he's off to the kind of start that you'd need, almost scoring a goal per game at this pace. And the good news is he plays for a team that scores a ton with plenty of offensive talent to play with.
Unlike Marleau at this stage of his career, Stamkos has shown he can score goals at the kind of pace for a longer stretch that would be needed to reach such a crazy number like 50 in 48. Still, consider how tough it was for him to score 60 in 82 last season, he did something that had only been done one other time in the previous decade. Stamkos is the best pure scorer in the game today, but can he really be expected to score more than a goal per game?
To better understand the difficulty of such a feat, let's put it this way. If he were to score 50 goals in a 48-game season it would be akin to scoring 85.4 goals in a full season. The last time that we saw anybody score that many in one season it was way back in 1990-91 when Brett Hull potted 86 for the St. Louis Blues.
(As a side note, Hull won the Rocket Richard by a whopping 35 goals that season over Theoren Fleury and still lost the points race by 32 to a certain fella named Gretzky. Gretzky was also the guy who put up the untouchable 50 goals in 39 games back in 1981.)
The last time a player was unofficially able to score 50 goals in 50 games (unofficial because it came in the player's first 50 games, not the team's) was Cam Neely in 1993-94.
You probably don't need me to tell you the game has changed a lot since then and scoring is way down from that era.
Does he think he's even capable of doing it? Probably not, if he's being honest with himself. The line about having more to give is likely in reference to a lot more than just scoring. It's hard to imagine in today's NHL he could give any more than he has in terms of goals. Instead he wants to become a better player all-around; improve defensively, become better in the faceoff dot, etc.
It's kind of scary to think of Stamkos being better than he currently is (especially if you go back to how he finished last season) or that he has more, as he puts it. But it should be a lot of fun to watch as the season plays out, particularly since his team figures to be fun to watch overall.
For more hockey news, rumors and analysis, follow @EyeOnHockey and @StubitsCBS on Twitter, subscribe to our YouTube account and like us on Facebook.
The 40-year-old center is returning to the Wild after a successful run in Pittsburgh

Edmonton locks up its 21-year-old RFA a month after McDavid's historic extension

Even with a new coach and added veteran help, the Canucks have a long road ahead
Unlike expansion teams before them, the Knights have enough talent to entertain right away

Brian Lawton says he 'would not be surprised' if Boston deals its young star to end contract...

It turns out Phil does love his hot dogs, especially when they're in a Stanley Cup