Lightning vs. Rangers recap: What you need to know about Game 5
Everything you need to know about the Tampa Bay Lightning's Game 5 win over the New York Rangers on Sunday night.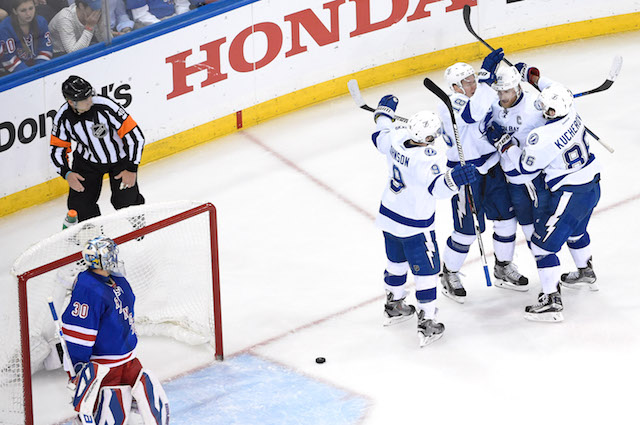 Every night during the Stanley Cup Playoffs, Eye On Hockey writers Adam Gretz and Chris Peters will bring you up to speed everything you need to know about all of the action around the NHL. Here's what you need to know about Rangers vs. Lightning Game 5.
Tampa Bay Lightning at New York Rangers, Game 5
Lightning 2, Rangers 0 | Lightning lead series 3-2 | Game 6, Tuesday
Game 5 in a nutshell: For 20 minutes it looked as if the New York Rangers might have a chance to pick up where they left off in Game 4 offensively. They were controlling the play, they were constantly in the Tampa Bay end of the ice, and they were generating a number of chances. And then they did a complete 180 in the second period, failed on a couple of power plays, couldn't sustain any pressure in the Tampa Bay end, and had a couple of defensive breakdowns that resulted in a pair of Lightning goals. Those goals that would be all the offense the Lightning would need to push them to within one win of their first Stanley Cup Final appearance since the 2003-04 season. They will have a chance to win the Eastern Conference on home ice in Tampa Bay on Tuesday night.
Turning point: The Rangers' power play was really starting to get going in this series, scoring two goals in each of the past three games. They had several opportunities on Sunday but failed on all of them, including back-to-back power plays midway through the second period. After failing to score on the second of those attempts Valtteri Filppula scored scored his third goal of the playoffs to give Tampa Bay the lead. Steven Stamkos added a power play goal for Tampa Bay later in the period to pretty much put the game out of reach.
Three things we learned
1. In Game 4 Henrk Lundqvist was able to bounce back from a couple of bad games. On Sunday, it was Ben Bishop's turn. After giving up 10 goals over the previous two games, Bishop stopped all 26 shots he faced on Sunday to record his second shutout of the playoffs to help Tampa Bay take a 3-2 lead in the series. He wasn't tested a ton on Sunday thanks to a defensive clinic by his teammates, but he made the stops he needed to make including a couple of stops on odd-man rushes and all of the Tampa Bay penalty kill situations.
2. Ryan Callahan didn't get the goal that his coach Jon Cooper thought that he was probably going to get in Game 5, but it didn't matter for the Lightning because their other big guys were able to step up again. Including Steven Stamkos. Again. Stamkos right now is, quite simply, on a roll and is starting to score like he did during the regular season when he was the second leading goal scorer in the NHL. His second period goal on Sunday was seventh of the playoffs (all coming over the past 10 games) and his fourth in as many games. He now has a goal in six of his past seven games for the Lightning.
3. After a few high scoring games in a row Game 5 was back to more of what we have seen from the New York Rangers (and the Eastern Conference as a whole) this postseason with a tight, low-scoring defensive game. And now the Rangers are back in another rather familiar situation. They will be facing a must-win game on Tuesday night in Tampa Bay, and if they are going to advance to the Stanely Cup Final for a second year in a row are going to need to win another Game 7 on home ice, something they have had to do more than once over the past few years and have already needed once this postseason.
Video of the game: Steven Stamkos finishes a beautiful tic-tac-toe passing play to give the Lightning a 2-0 lead in the second period. There is a ton of talent on the ice in this situation with Stamkos, The Triplets, and Victor Hedman going up against the Rangers, and it was simply too much for them to handle.
That's 4 goals in 4 games as Steven Stamkos doubles the @TBLightning lead. #NYRvsTBL #StanleyCup https://t.co/Qo98YhJuNj

— NHL (@NHL) May 25, 2015
Inclement weather led to the Charlotte Checkers and Bridgeport Sound Tigers playing in front...

The NHL chose the Detroit rocker as its All-Star Game entertainment and not everyone is th...

NHL fans from all over seem to agree on one thing: Hating Kid Rock
The team tweeted on Monday that Shaw would be re-evaluated in 7-10 days

The Montreal forward was hospitalized after taking a Zdeno Chara slap shot to the head

Tampa Bay is still No. 1 and Vegas is still up there, but a few others are finally catching...