Lockout gives players like Devante Smith-Pelly chance to grow in AHL
Devante Smith-Pelly spent his first season as a pro in the NHL. He's spending the second in the AHL thanks to the lockout.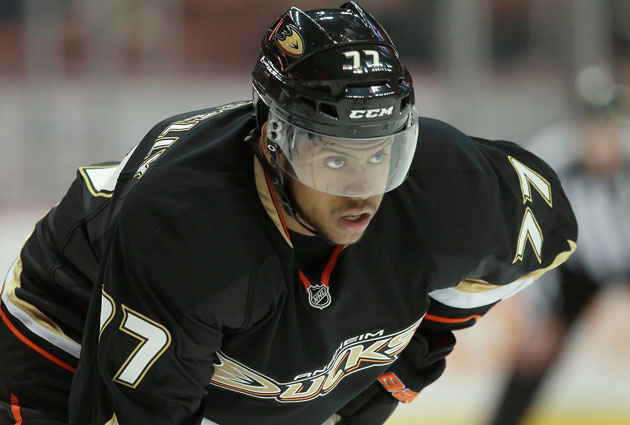 Smith-Pelly had seven goals, six assists in 49 games in Anaheim last season. (Getty Images)
WASHINGTON -- Devante Smith-Pelly wasn't the first pick overall or a highly touted prospect when after he was drafted by the Anaheim Ducks. Still, he stuck with the Ducks out of his first camp and lasted in the NHL as a 19-year-old. He took the fast track to the big time.
His season was cut to 49 games after he sat out a good chunk of the season thanks to a broken foot suffered in the World Junior Championships with Team Canada. The idea was that he would have his second season, his first full season, with the 2012-13 Ducks and could continue to develop.
Then came the lockout. Like all other players, Smith-Pelly was left to look elsewhere. But seeing how he's still on his entry-level deal and is 20 years old, the Ducks were able to send him to AHL Norfolk to play.
It's not the usual track, to go from juniors right to the NHL then hit up the AHL. But it's one that Smith-Pelly is on now.
"I skipped over the AHL last year and, obviously, skipped over some learning tips that I didn't get to learn up there," Smith-Pelly said, referring to the NHL. "This is a year for not only myself but other young guys who are looking to make the jump up to the NHL to round their games out down here and learn some stuff."
It's as difficult as beating Henrik Lundqvist to find any positives to the NHL lockout. But perhaps to some of the NHLers spending their days in the AHL, the lockout has been a small blessing in disguise. It offers a chance to progress at a slower rate, one that less-polished prospects have the chance to do.
That goes for others, too. The Oilers have an alright quartet of youngsters playing with Oklahoma City (Ryan Nugent-Hopkins, Justin Schultz, Taylor Hall and Jordan Eberle) as well as other players scattered across what's the equivalent of the NHL's minor-league system. Because of the lockout, they get to go through some pains that help other players mature.
"I'm just rounding out my game and learning how to be a real pro here," Smith-Pelly said. "In the NHL, it's a lot easier to get ready for games. You're flying in the day before, and you're at the best hotels and the best restaurants. Down here, you bus three, four, five hours straight to the rink and play. It's a little bit different in the sense that you have to mentally prepare every night and you have to know how to get ready for every game. That's something I didn't -- I mean, obviously, I got ready for games last year -- but that's something I didn't have to deal with last year, just jumping off the bus and going on the ice."
Smith-Pelly wasn't the typical prospect to make a team right out of his rookie camp. He doesn't have the scoring prowess of Nugent-Hopkins, for example. He is a third-line tough guy who had seven goals.
While that preparation isn't likely to translate directly to the NHL when it comes back -- unless the NHL keeps harping on jet-fuel costs and starts bussing players around for games -- the lesson is one that he can take. There will be distractions and other obstacles to deal with before games down the line.
That's not all that Smith-Pelly said he's picking up. He is playing under different coaches and learning a few more things here and there.
As positive as his experience in the AHL has been -- "It's good. It's an awesome league." -- it just doesn't compare to being in the NHL. From the big-pressure games to the big contracts and the big crowds, it's something that can't be replicated in the AHL, even if they try.
Norfolk ventured up to Washington D.C. to play the Hershey Bears, the affiliate of the Capitals, on Thursday to what was announced as a sold-out crowd in an AHL showcase that was planned before the lockout but proved to be a nice reminder of what this thing we call ice hockey is. The seats weren't all filled with butts, but it was a good crowd on hand, one that partook in some "Fire Bettman" chants along the way. It was good to play in an NHL arena with that many fans in attendance, even if Norfolk lost to the Braden Holtby-led Bears, 2-1.
The hope is to get back into the NHL, but a new deal has to be reached for that to happen. Smith-Pelly has been in the somewhat fortunate position to avoid the continual doom and gloom.
"It's something I get to block out down here," he said. "I'm not at home waiting or at the meetings trying to get it all figured out or anything like that. I'm playing and, as of right now, this is the only thing I'm focused on."
Just because he's not paying a lot of attention doesn't mean he couldn't be up to date on everything if he wanted to. That's because Donald Fehr has kept good on his promise to keep the players informed.
"We all get emails and stuff like that," Smith-Pelly said. "Me personally, I don't really check up on it a lot. I'll ask some guys what's going on and pretty much just watch TSN. What they say is pretty much what I know. I don't get too, too involved in that stuff. So I'm just left waiting and listening to the media."
In the meantime, he at least gets to keep playing and growing in his hockey career alongside some of the other future stars of the Ducks like Emerson Etem, Kyle Palmieri and Hampus Lindholm, who are all spending the lockout with Norfolk.
For more hockey news, rumors and analysis, follow @EyeOnHockey and @StubitsCBS on Twitter and like us on Facebook.
The former Boston Bruin was the first black player to play in the NHL

Inclement weather led to the Charlotte Checkers and Bridgeport Sound Tigers playing in front...

The NHL chose the Detroit rocker as its All-Star Game entertainment and not everyone is th...
NHL fans from all over seem to agree on one thing: Hating Kid Rock

The team tweeted on Monday that Shaw would be re-evaluated in 7-10 days

The Montreal forward was hospitalized after taking a Zdeno Chara slap shot to the head