Long contracts for goalies don't always work out
The Boston Bruins signed Tuukka Rask to an eight-year contract. Recent history shows that's a risky investment for a goalie.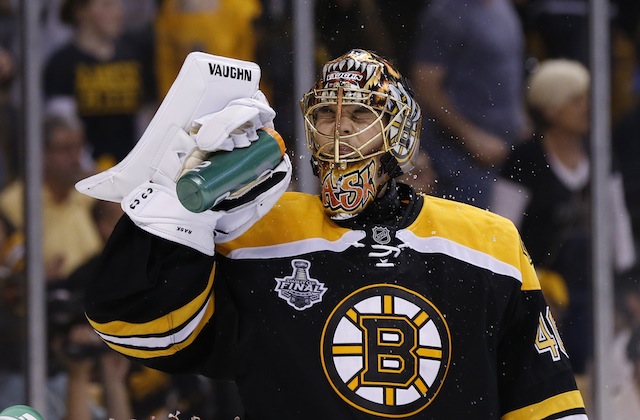 More NHL offseason: Rumors | Top 50 Free Agents | Buyout Tracker | Trade Tracker
Tuukka Rask has been nothing short of sensational every time the Boston Bruins have had to rely on him to be their starting goalie, whether it was the 2009-10 season when Tim Thomas struggled, or this past season when Thomas took a year off from the NHL.
Since acquiring him from the Toronto Maple Leafs several years ago in exchange for Andrew Raycroft, it was hoped that he would one day become their starting goalie. That time has come, and he hasn't disappointed.
Perhaps his best play came this past season when he backstopped the Bruins to their second Stanley Cup Final appearance in three years and had them within two games of winning the whole thing.
Since the start of the 2009-10 season (minimum 82 games played) only one goalie (Cory Schneider) has a higher save percentage than the .927 mark Rask has posted.
That performance resulted in him getting an eight-year, $56 million contract from the Bruins on Wednesday. That ties him with Nashville's Pekka Rinne for the largest cap hit ($7 million) in the NHL among goalies. Based on the way he's played, it's hard, if not impossible, to argue that he isn't worth that sort of investment right now.
But how will it look by the end of the contract? It certainly has some risk (especially for a goalie who has appeared in only 133 games) if for no other reason than the position Rask plays.
Goalies are a strange bunch when it comes to their performance and they're always highly unpredictable no matter how established they are, no matter how much talent they have, and no matter what they've previously done in their career. It's not uncommon for players with no history of success to blossom in their late 20s or early 30s with All-Star level performances, while supposed franchise goalies can completely fall off the map.
Because of that, anything longer than a four- or five-year contract for a goalie seems to be an extremely risky investment. If it works out, you're in a great position. If not? It's tough to get out of it. Given the recent history of the position, it wouldn't be a stretch to say that most of the teams that gave out seven-year contracts to goalies ended up coming away disappointed with their investment before the end of the contract.
Let's take a quick look at the goalies who have been signed to contracts seven years or longer in the salary-cap era in order of contract length:
Rick DiPietro, New York Islanders (15 years, $67 million): DiPietro was given his mega-deal after his first 133 games in the NHL, just as Rask was, but didn't have anywhere near the track record Rask has. It was a dubious investment from the beginning. DiPietro played seven injury-filled, mediocre seasons with the Islanders before being bought out this summer.
Roberto Luongo, Vancouver Canucks (12 years, $64 million): Luongo has been one of the best goalies in the league for most of his career and is still a high-level player, but the Canucks had a major goaltending controversy the past year and were desperately trying to dump Luongo's contract and turn their position over to Cory Schneider for the long term. They never found a trade partner, due mostly to the contract (Luongo admitted that it "sucks"), and ended up trading Schneider to the Devils for a No. 9 overall pick at the NHL draft. He's been productive, but it hasn't been a great investment and resulted in a lot of distractions.
Jonathan Quick, Los Angeles Kings (10 years, $58 million): This contract kicks in starting next season and it remains to be seen how it will work out for the Kings. At the moment, Quick is one of the best goalies in the league and has been a rock in the postseason the past two years. The jury is still out on this one.
Ilya Bryzgalov, Philadelphia Flyers (9 years, $51 million): After a couple of wonderful seasons with the Phoenix Coyotes the Flyers went all-in on trying to acquire Bryzgalov last offseason to fill their long-time hole in net. They traded key players (Jeff Carter and Mike Richards) to clear cap space and signed Bryzgalov to a massive nine-year contract. The experiment lasted only two very strange and bizarre years and ended with a buyout this past summer.
Pekka Rinne, Nashville Predators (7 years, $49 million): There is perhaps no team in the league that relies as much on its goalie as the Nashville Predators do with Pekka Rinne. They don't score, they give up a lot of shots, and they lean on him to be a wall in net. When the Predators front office was facing a situation that saw Rinne, Shea Weber, and Ryan Suter due for new contracts, the first person they signed was Rinne (they ended up losing Suter in free agency and kept Weber, but only after matching a restricted free agent offer sheet from the Flyers). Rinne is one of the best goalies in the league and performed well in his first year under the contract. Like Quick, the jury is still out on this one.
Marc-Andre Fleury, Pittsburgh Penguins (7 years, $35 million): The Penguins remain faithful to Marc-Andre Fleury, even after his fourth consecutive disappointing postseason performance, but that doesn't mean the contract has been a huge success. He's had his moments and isn't as bad as his harshest critics believe, but he's also not as good as his biggest supporters (and apparently the Penguins coaching staff and front office) believe. If he was, the Penguins wouldn't have felt the need to bring in Tomas Vokoun on a two-year contract last summer and turned to him in this year's playoffs. Looking at their current roster and salary cap structure, is $5 million a year to Fleury really the best use of that cap space? Hard to argue that it is.
None of this means that Rask won't work out long term for the Bruins and continue to be one of the best goalies in the league. But it's not without its risks, and if there's one position in the NHL that teams have been able to win with using cheap (but productive) talent, it's goalie.
A lot of teams have come away disappointed after similar contracts.
We'll see how it works for the Bruins and Rask.
Follow Adam Gretz on Google+
The Rangers go with a darker blue and old-fashioned lettering for the outdoor game

It's time to hook your favorite NHL fan up with some Black Friday deals

The Lightning have Steven Stamkos to thank, and the Blues should be extra grateful for Brayden...
The Sabres will face the Rangers at Citi Field on New Year's Day in these sharp threads

SportsLine's Mike McClure, a DFS pro with more than $1M in winnings, gives optimal lineup...

Without the star power of the NHL, America is banking on big contributions from some AHL, KHL...