LOOK: AHL team plays in front of empty building due to winter storm
The AHL's Charlotte Checkers had to close Friday's game to the public due to the winter storm covering the east coast.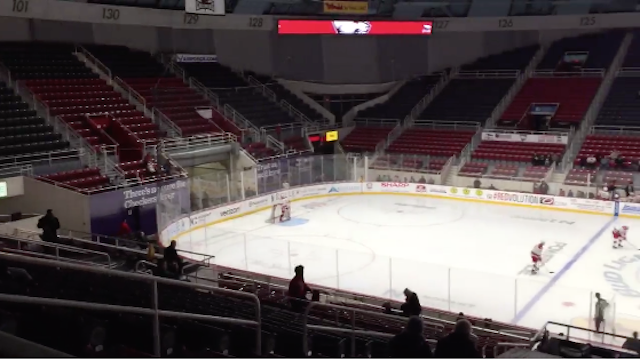 A massive winter storm is covering most of the east coast on Friday and it's causing some issues for the several NHL teams in the northeast. 
Monday's game in Washington between the Capitals and Ducks has already been postponed, while the Ducks had to make their way to Detroit in time for Saturday's game (it did not look like fun!).
Sunday's game between the Penguins and Capitals -- also in Washington -- is also in jeopardy at this point.
In Raleigh, the New York Rangers-Carolina Hurricanes game is going on as scheduled, but things weren't going quite as planned in Charlotte where the AHL's Charlotte Checkers were hosting the Chicago Wolves. The Checkers played in front of an empty building after the team closed the game to the public due to the worsening weather conditions outside. 
The Checkers are allowing fans that had tickets to Friday's game exchange them for tickets to one of three games in the future.
Let's get ready to rumbleeeeeeeee #BehindClosedDoors pic.twitter.com/dsAqGFyfkE

— Charlotte Checkers (@CheckersHockey) January 23, 2016
I'm guessing the people that are in the stands in that video are arena and team employees that were already there for the game. 
A fan did ask the Checkers why they were going on with the game and subjecting the players to the weather conditions in getting to and from the arena. The team responded by saying that the players were already at the building when the decision was made to close the game to the public.
The puck didn't go in the net but the skater did!

Another sign that Houston is a potential destination for an NHL relocation
The two teams combined for 111 penalty minutes and five ejections

The veteran Minnesota goaltender has recorded three consecutive shutouts

The historic start for the NHL's newest team has come largely from unprecedented balance in...