LOOK: Patrick Sharp photobombs newlywed's picture from ice
One couple held their wedding reception at United Center and decided to take some pictures by the ice during warmups. Patrick Sharp couldn't resist getting in the shot.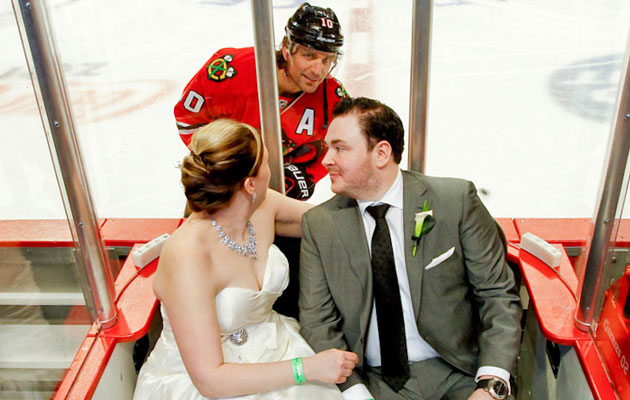 More NHL: Trades | Scores | Standings | League Leaders | Odds  | Power Rankings
Take a peak through any couple's wedding album and surely you'll find one or two pictures of somebody sneaking in a photobomb of some sort, doing something goofy and light-hearted in the background. None of them can compete with one Chicago couple's photobombed wedding picture.
A newlywed couple in Chicago held their reception at the United Center in one of the suites with the Carolina Hurricanes in town. The couple took the chance to go down to the ice level and snap some pictures from in between the benches in warmups.
That's when Blackhawks star forward Patrick Sharp played the photo's equivalent of Best Man. As in, "this is just the best, man!" (Photos from Ruthie Hauge Photography by way of the Blackhawks)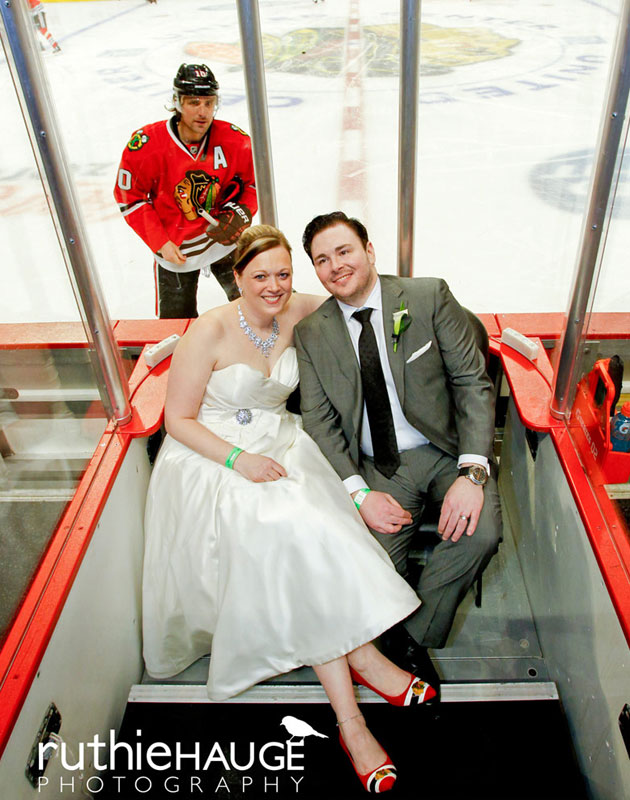 Congratulations to the newlyweds not only on their marital bliss but for having one of the best wedding album photos you'll ever see. Sharp really is a star.
PS: Kudos to the beautiful bride for the Blackhawks shoes to go with her white dress. That's dedication to the fullest.
S/t Reddit
Inclement weather led to the Charlotte Checkers and Bridgeport Sound Tigers playing in front...

The NHL chose the Detroit rocker as its All-Star Game entertainment and not everyone is th...

NHL fans from all over seem to agree on one thing: Hating Kid Rock
The team tweeted on Monday that Shaw would be re-evaluated in 7-10 days

The Montreal forward was hospitalized after taking a Zdeno Chara slap shot to the head

Tampa Bay is still No. 1 and Vegas is still up there, but a few others are finally catching...