The Boston Bruins steamrolled the Pittsburgh Penguins on Friday night by a 6-2 margin to hand them their third consecutive loss to begin the Mike Sullivan era.
The highlight of the night for the Bruins was rookie Frank Vatrano recording his first career hat trick in the win, completing it with just four minutes to play in regulation. It was a big moment for the 21-year-old, but because it happened on the road there weren't a lot of hats thrown on the ice outside of a couple that made their way down from the stands. Whether they were from Bruins fans that were in the house or Penguins fans that were just excited to see a hat trick is unknown and, quite honestly, not important. 
What is important is this.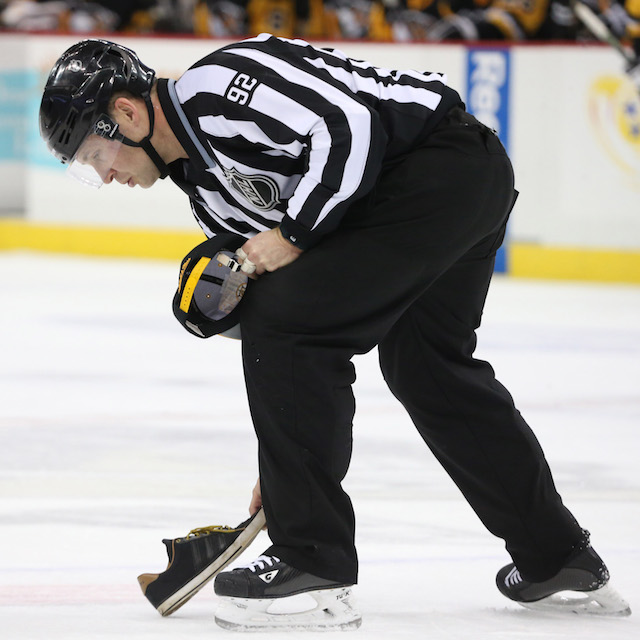 Yes. That is a shoe.
Somebody -- the guess here is a disgruntled Penguins fan fed up with watching a pig of a game -- threw a shoe on the ice. And it was an impressive throw, too, as it nearly reached center ice from the stands, and from my vantage point in the Consol Energy Center press box it seemed to come from pretty far back in the lower bowl.None of the television networks captured it but thankfully USA Today Sports Images photographer Charles LeClaire was there to get the evidence.
It's important to keep in mind that it was about 20 degrees in Pittsburgh on Friday night and snowing. So somebody not only had to watch their favorite team get blown out, but they had to walk out of the arena and back to their car with only one shoe. In the cold and snow. 
When the on-ice officials picked it up they kind of looked at each in disbelief because, really ... who throws a shoe? Honestly?
Here is a look at all three of Vatrano's goals.