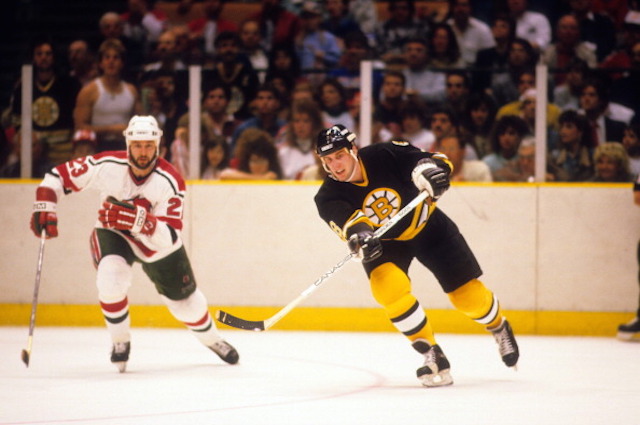 Back on June 6, 1986, the Boston Bruins traded Barry Pederson, a former first-round draft pick that had already registered two 40-goal seasons in the NHL, to the Vancouver Canucks in a deal that would have a long-lasting impact on the organization.
One that is still being felt today.
In return for Pederson, the Bruins received Cam Neely, one of the most popular players in franchise history and a Hockey Hall of Famer, and a 1987 first round draft pick. Neely would go on to play 525 games over parts of 10 seasons with the Bruins, scoring 344 goals with the team before his career was cut short due to injuries at the age of 30. 
The other part of that trade -- the first-round pick -- is where things get interesting. Over time it eventually led to the Bruins selecting Milan Lucic in the second round (No. 50 overall) of the 2006 NHL draft. Lucic would go on to play eight seasons with the Bruins, help the team win a Stanley Cup, and become one of the most easily identifiable players on the team. 
On Friday, Lucic was traded to the Los Angeles Kings in exchange for Martin Jones, Colin Miller and a 2015 first-round draft pick was used to select Jakub Zboril as a part of Boston's offseason makeover.
Here is the complete chain that not only features the new limbs added thanks to Friday's trade of Lucic, but also the other players Boston gained from it, including Nathan Horton and Gregory Campbell.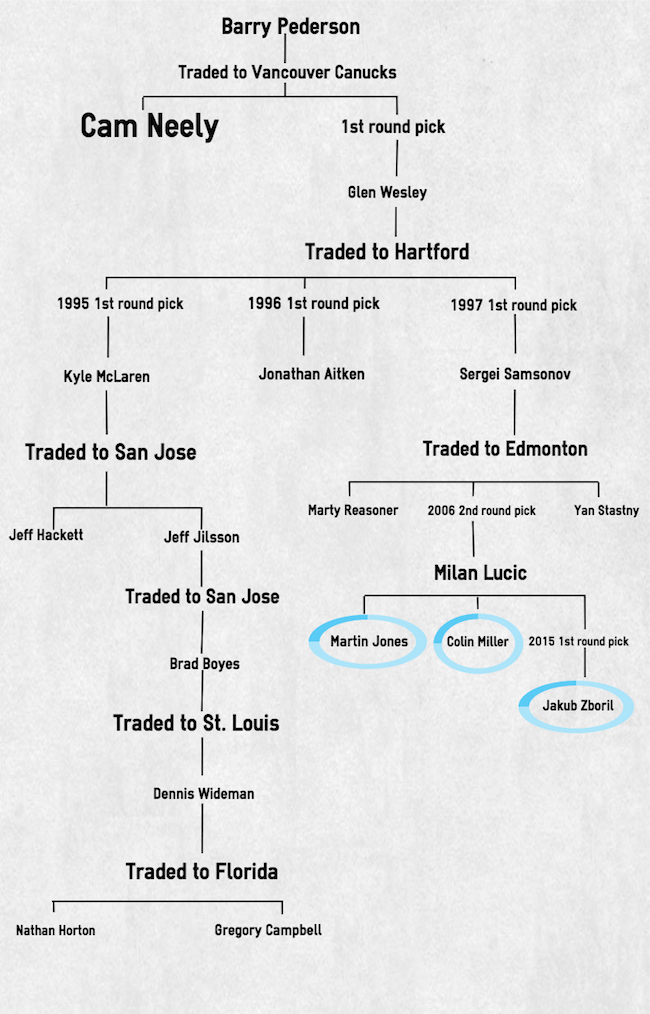 And let's always remember the time a Milan Lucic goal made the executive version of Cam Neely lose his mind.
As long as we're on the subject of Bruins trade trees (and we have been over those before) the return on Phil Kessel also continued to grow over the weekend thanks to the Dougie Hamilton trade.
After Kessel was traded to Toronto for two first round draft picks that were used to select Tyler Seguin and Hamilton, the Bruins turned those two players into Reilly Smith, Loui Eriksson, Zachary Senyshyn, Jakob Forsbacka-Karlsson, and Jeremy Lauzon. 
More NHL Trade Chains
What the Boston Bruins have to show for 10 years of trading superstar players
What Jaromir Jagr been traded for in his NHL career
The Ryan Miller trade continues to grow for Buffalo