Maple Leafs add Tie Domi, Brad May, 'Tiger' Williams to Alumni Showdown
Tie Domi, Brad May and Dave 'Tiger' Williams were added to the Leafs' Alumni Showdown roster. Gloves could be dropping.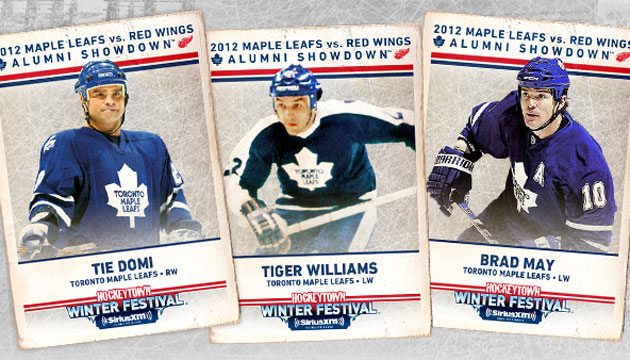 The Leafs add some bruisers to the festivities. (MapleLeafs.com)
The Toronto Maple Leafs added three more players to the list for the Alumni Showdown games that will be part of the Winter Classic festivities in Detroit at the New Year. They would be Tie Domi, Brad May and Dave "Tiger" Williams.
Just in case you have forgotten how those guys played in their careers -- not sure how you could -- the Maple Leafs' release reminds you.
Toronto has added former enforcers Tie Domi, Brad May and Dave 'Tiger' Williams – the NHL's all-time leader in penalty minutes (3,966) – to their alumni roster. Between the three of them, Domi, May and Williams spent nearly 10,000 minutes in the sin bin over the course of their 3,023 combined regular season appearances.
On a related note, the NHL announced it will make the penalty boxes double wide for the games in Comerica Park and a third referee will be added to the ice.
Just in case this game starts to get an edge to it -- it is Wings-Leafs after all -- the Leafs will have plenty of truculence on hand, as Brian Burke might say. My question is if the Leafs want to split these guys over the two games or just put them on one line together. I hope for the latter, who wouldn't want to see a line brawl in the Winter Classic? It is a flashback game, after all.
Meanwhile he Wings added four guys with Michigan ties outside of having played with the Red Wings. University of Michigan alums Aaron Ward and Red Berenson were added as well as Jimmy Carson and Dennis Polonich for Detroit. It adds a little additional hometown flair for the Wings.
Hopefully they keep their heads up.
For more hockey news, rumors and analysis, follow @EyeOnHockey and @StubitsCBS on Twitter and like us on Facebook.
J.T. Brown, who raised his fist during the national anthem, meets with Tampa Police Depart...

The decision would likely be met by anger from some fans, but it could also make sense

Toronto shoots to the No. 1 spot, just ahead of the Chicago Blackhawks
The Penguins' standout is at it again

Gary Bettman all but reverses course from his September comments on anthem demonstrations

The 'Washington Post' says many teams have stopped booking stays at Trump-owned properties