Maple Leafs' cushion almost gone as road only gets tougher
The Maple Leafs were 10 points clear of the last playoff spot in the Eastern Conference on Nov. 1. Now they're only three points up. It has been a fast fall but it might not be done.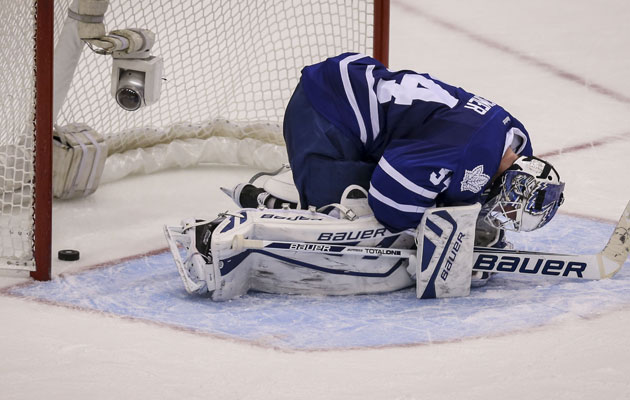 More NHL: Scores | Standings | League Leaders | Odds | Injuries | Power Rankings
The Toronto Maple Leafs have been a lot like real leaves this autumn, staying high up through October before starting to fall in November and into December. Unlike real leaves, though, the team in Toronto hasn't changed its colors.
When the Leafs rocketed out to a 6-1 start this season and later to 10-4-0, they were sitting atop the newly formed Atlantic Division. Sure, possession metrics (and more standard metrics like simple shots on goal, for that matter) were as compatible with the Leafs as Rob Ford is to decorum but it didn't matter much as long as they were getting the results.
Part of the idea was that the Leafs could do their best impression of a squirrel and stockpile enough points to get them through the long season and into the playoffs. Especially since the Eastern Conference appeared to have a real divide between its top eight and bottom eight, there was an appearance that a strong start could give Toronto the base it needed to hold on all season long.
You'll recall that at the beginning of November, we took a look at how it has proven to be incredibly difficult over the years for teams to overcome standings deficits as low as four points on Nov. 1. The inverse of that, of course, is that it's rare that teams blow their leads in the standings as well. Those stockpiled points make a much bigger difference than you would think on first glance.
Go back to that Nov. 1 date this year and you'll find the Leafs were atop the East with 20 points and were a whopping 10 points clear of the "first team out" from playoff contention. Clearly the Leafs were safe, right? Play just .500 hockey from there on out and you're looking at 88 points, which in this year's East might be good enough to get in the door.
Fast-forward to now and you'll find the standings paint a completely different picture. After the first 14 games the Leafs had 20 points. After 14 more games they have just 31 -- of course, 11 points in 14 games is not .500 hockey. They're eight points back of the best mark in the East and now are only three points up on the last playoff spot.
The silver lining for Maple Leafs fans is that even with a 4-7-3 record since Halloween, they have remained in playoff position with points to spare. But winter hasn't even set in yet and they have pretty much squandered their points stash already.
This is nothing new in Toronto. It's becoming a little too familiar, in fact. Last season the Leafs started out strong. In that case, because the season was only 48 games, they were able to hold on long enough and reach the playoffs. Two years ago on Dec. 1 the Leafs were one point behind Boston in the Northeast, two off the top seed in the East. They finished two points ahead of last place in the East.
It helps to paint the picture as to why "unsustainable" has been the buzzword for the Leafs over the past few years with their hot starts. Much has been made about Toronto's approach to playing and the fact that they are just about as miserable of a possession team as there is in the game, better than only Buffalo this season. By playing this way you'll steal some games here or there but in the end, the team that gets more shots and has the puck longer is more likely to win. It's a pretty simple formula. Now that the Leafs' shooting percentage has come down along with the incredible early season goaltending, so has their standing.
Point is, it is tough to turn things around when, in theory, your hot start was done with smoke and mirrors. Then again, I'm not sure many expected that the Leafs would be able to stay at the top of the conference all season but perhaps that their hot start was going to give them the cushion they needed to ride long enough into the season.
As noted they do still have a somewhat decent cushion with that three points but it's not exactly 10 points. And frankly, it's not likely to hold up through December, not with what the Leafs have in store and considering this team has lost five in a row entering this stretch.
Maple Leafs schedule
Date
Opponent
Date
Opponent
12/5
Dallas
12/17
Florida
12/7
@ Ottawa
12/19
Phoenix
12/8
Boston
12/21
Detroit
12/11
Los Angeles
12/23
@NY Rangers
12/12
@ St. Louis
12/27
Buffalo
12/14
Chicago
12/29
Carolina
12/16
Pittsburgh
1/1
@ Detroit (Winter Classic)
Even with a majority of the games at home, the Leafs face some daunting teams in the coming weeks, particularly that stretch vs. Boston, three West powers and then Pittsburgh. This might be a good time to remind you that HBO has started filming the Leafs and this portion of the schedule will be featured on 24/7: Road to the Winter Classic. That should be entertaining.
This is why it's such a massive advantage to get off to those great starts in the NHL -- you can withstand some tumbles and still keep your playoff pace. But this has been a pretty quick fall and the Leafs might not have even hit the ground yet. So much for that cushion.
The puck didn't go in the net but the skater did!

Another sign that Houston is a potential destination for an NHL relocation
The two teams combined for 111 penalty minutes and five ejections

The veteran Minnesota goaltender has recorded three consecutive shutouts

The historic start for the NHL's newest team has come largely from unprecedented balance in...