Maple Leafs fail to clinch playoff spot, same problems still exist
The Toronto Maple Leafs failed to clinch a playoff spot on Thursday and the same problems that existed for most of the season are still there.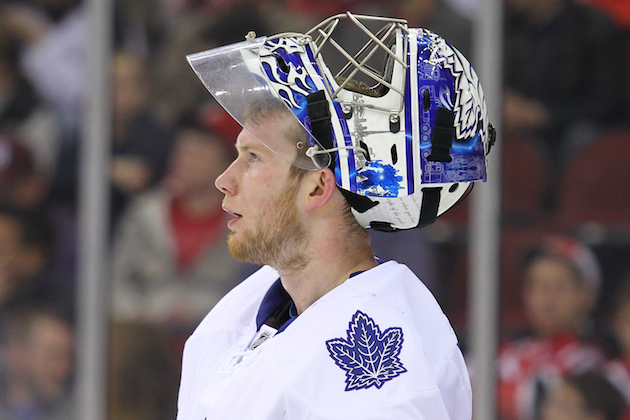 More NHL: Scores | Standings | Odds | Fight-O-Meter | League Leaders | Rumors
Even though it's not quite official yet James Reimer is the reason the Maple Leafs are going to the playoffs this season. Now it would be nice if the rest of his teammates gave him a little bit of help.
The Maple Leafs had a chance to clinch a playoff spot on Thursday night and not only failed to do so, but also played what was perhaps one of their worst games of the season in a 5-3 loss to the New York Islanders.
More on Islanders-Maple Leafs
Related links
Make no mistake, the Leafs are still going to the playoffs and at this point it's simply a matter of when and not if they officially clinch a spot and finally end what is currently the longest postseason drought in the NHL. But these past three games, and especially Thursday's game, have highlighted some of the same weaknesses and concerns that have surrounded this team for much of the season, even as they piled up wins earlier in the year.
The No. 1 concern for the Leafs has been the appalling rate at which they get outshot on a nightly basis. They entered Thursday's game with one of the worst shot differentials in the league, getting outshot by an average of nearly five shots per game. Following a 3-2 win against the New York Rangers last week, a game that saw the team go more than 24 minutes without registering a shot on goal, Leafs coach Randy Caryle dimissed that concern by telling the media "stats are for you guys."
By Thursday afternoon, something apparently changed in Leaf-land as Carlyle was asked once again about how often his team gets outshot and admitted that it's starting to become a concern.
Based on the last three games, it doesn't seem to be going away anytime soon. It actually seems to be getting worse.
Over their last three games, in which they've been outscored 10-6, the Leafs have been outshot 104-64 overall and 88-53 at even strength.
That's bad.
For an even more telling number you can look at the total shot attempts (goals, saves, misses, blocks) and see that Toronto has only attempted 40 percent of the shot attempts in the aforementioned games.
That is an absolutely abysmal number.
The fact they were able to win even one of those games is a testament to Reimer and the way he's played in net this season.
For most of the season, the Leafs have been playing with fire when it comes to their inability to control play in the offensive zone and lately it's starting to burn them. And with the playoffs just around the corner, it's a bad time of the year for that to start happening.
As I wrote last week, much of the Leafs' success this season can be attributed to the play of Reimer and perhaps even a little bit of offensive shooting luck. They have too many roster spots dedicated to guys like Colton Orr, Frazer McLaren, Mark Fraser, Ryan O'Byrne and Jay McClement (while giving them more ice time than they should be receiving) that can't generate any sort of a sustained offensive attack and consistely get outplayed.
If you keep allowing teams to tilt the ice with a 60-40 split in their favor, you're just not giving yourself much of a chance to win.
For the first time since 2003-04, the city of Toronto will experience playoff hockey.
But if the local team keeps getting dominated territorially like it has been this season (and especially recently), it's probably going to be a very, very short experience.
The puck didn't go in the net but the skater did!

Another sign that Houston is a potential destination for an NHL relocation
The two teams combined for 111 penalty minutes and five ejections

The veteran Minnesota goaltender has recorded three consecutive shutouts

The historic start for the NHL's newest team has come largely from unprecedented balance in...