Maple Leafs trade Dion Phaneuf to Senators in nine-player deal
Dion Phaneuf is headed to the Ottawa Senators as part of a nine-player blockbuster deal with the Maple Leafs
In an extremely rare trade between rivals, the Ottawa Senators have acquired Dion Phaneuf from the Toronto Maple Leafs as part of a nine-player deal.
Also going to the Senators with Phaneuf are Matt Frattin, Casey Bailey, Ryan Rupert and prospect Cody Donaghey. In return, the Maple Leafs have acquired defenseman Jared Cowen and forwards Colin Greening, Milan Michalek and Tobias Lindberg, as well as a second-round draft pick in 2017.
The big news in this deal is that Toronto has retained zero salary on Phaneuf's contract. He has an annual cap hit of $7 million and has five years remaining on that contract following this season.
This deal doesn't do a whole lot for the Maple Leafs' rebuild beyond allowing them to get out from under Phaneuf's burdensome contract that he was signed to by the previous regime led by ex-GM Dave Nonis. That's no small thing. They obviously want to be a player in free agency, especially if a certain Tampa Bay Lightning scorer becomes available on July 1.
Meanwhile, Cowen has youth on his side, but has been trending the wrong way in his career, while Michalek could provide a nice boost to the offense if he can stay healthy. He hasn't been healthy this year, nor last. Additionally, the Sens have been trying to trade Greening for some time now, so Toronto helps them in that regard.
Ottawa desperately needed help on their blue line. Despite having one of the absolute best players in the game in Erik Karlsson, the Sens have been leaky this year. Only Columbus has allowed as many goals as the 170 given up by Ottawa.
The question for the Sens is if Phaneuf can actually help stop the bleeding on the back end.
With the Senators, Phaneuf doesn't have to be the guy like he was in Toronto. That's Karlsson here, but Phaneuf still has to be a top-four defenseman and play in key situations. He hasn't been overly effective as he ages, though. It's tough to justify the cap hit for the production.
Phaneuf does have 24 points in 51 games this season and has had positive possession numbers under Babcock. He remains a physical defenseman and could add a new element to Ottawa's blue line.
Aside from the fact that the Maple Leafs were able to shed Phaneuf and not retain salary, the real shocker here is that Toronto and Ottawa were able to play nice. They have very, very rarely been trade partners. We found three deals between the two clubs with the last coming in 1998. It probably helps that Maple Leafs GM Lou Lamoriello is new to the rivalry and has a contemporary in Senators GM Bryan Murray. Still, this deal is going to make Sens-Leafs games even more interesting over the next few years.
Additionally, Phaneuf is the first Maple Leafs captain to be traded in-season since Doug Gilmour was dealt in 1997, according to Sportsnet Stats.
In the end, it still looks like this deal is going to help the Maple Leafs more than it helps the Senators in the long term. It's hard to see Phaneuf living up to his salary and cap hit.
That said, the Sens still have a chance to make the playoffs this year. Phaneuf does make their blue line better right now. Whether that's the case later remains to be seen, but the immediacy of his impact appears to be the big key in the deal. They're four points out of the last wild card spot and six points back of third place in the Atlantic. Ottawa went on a crazy run last year to make the postseason and they still have a chance to do that now.
This very well could be Bryan Murray's last season as GM in Ottawa as he continues his cancer fight. If there's anything this deal does, it shows his team that he has not given up on the season yet and the expectations remain high even as they're sagging in the standings.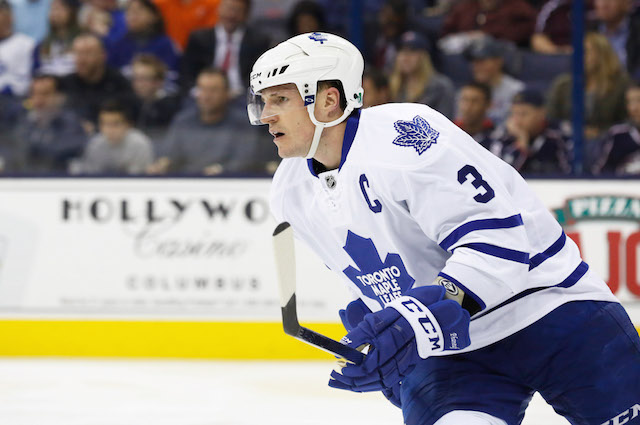 Stacia Robitaille says Donald Trump told her in an elevator that she was coming home with...

Vladislav Yeryomenko was the Teddy Bear Toss goal scorer for the Calgary Hitmen

The Golden Knights are finally getting their No. 1 goalie back after a 25-game absence
Washington has won four straight, and the Kings are also on a tear right behind the Lightn...

The NHL says it's only interested in expanding to Seattle, but here's a look at all the moving...

The NHL says it is only looking toward Seattle for the next expansion team