Marc and Eric Staal both over injuries, ready for NHL season
Marc Staal had a terrible eye injury, Eric Staal a knee injury. Now the brothers say they are healthy and ready to go for the NHL season.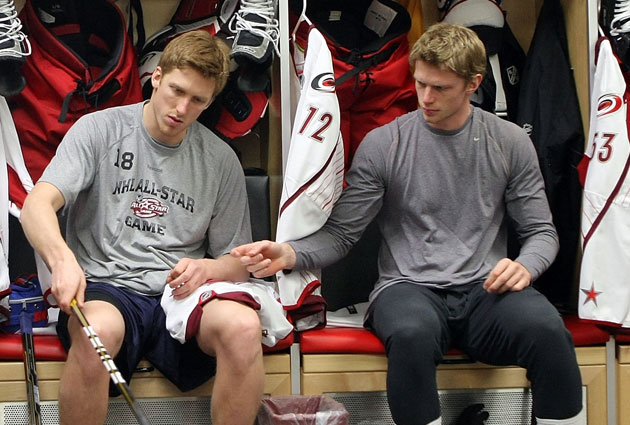 More NHL offseason: Rumors | Top 50 Free Agents | Buyout Tracker | Trades | Transactions
There's good news on not one but two Staal injury fronts. Both Rangers defenseman Marc Staal and Hurricanes center and captain Eric Staal don't anticipate any more issues this upcoming season.
As surely everybody remembers, Marc suffered a massive eye injury last season when he took a shot square to the face. It caused him to miss the remainder of the regular season and all but one game in the playoffs for the Rangers as well. His vision was impaired and there were concerns that he wouldn't get full restoration of his sight, a major problem for a hockey player, especially a defenseman.
But things are looking up (no pun intended). Marc said he will be absolutely ready to go for the season to resume his role with the Rangers.
"It was more of just adapting to the depth perception and things like that when I was coming back," Marc said at Canada's Olympic camp in Calgary. "It just wasn't clicking when I was trying to come back in the playoffs there. But with the time off and the training now, everything's back to normal and I'm feeling really good.
"Limitations? I have no limitations at all. From the time I was cleared to start working out, there wasn't anything I couldn't do as far as physically getting ready."
Excellent news, nobody wanted to see that fluke accident prohibit Marc from playing at a level he's capable of for the rest of his career. Having seen him in the playoffs in the press box as a scratch, he still didn't appear 100 percent and at the same time he looked miserable not being on the ice.
Then there's brother Eric. He was injured early this summer when he last played ... for Team Canada at the World Championships. He took a knee-to-knee hit from Swedish defenseman Alex Edler, which resulted in Edler being suspended at the IIHF level. It looked really bad for Eric as he couldn't put any weight on the knee leaving the ice. Original estimates had him missing part of the season.
Now? All better.
"I feel better than I thought I would, to be honest," Eric said. "Now at this point, at the end of August, I've been skating a few times now and I feel there won't be any issues when training camp starts."
That means that both brothers will join Jordan in being able to compete for spots on the Canadian Olympic roster in the early part of the season. Obviously the NHL team responsibilities come first but every player wants to represent their country and in a situation this time around where the only shot the countries have to evaluate on the ice will come during the season, any missed time would be a hinderance.
Thankfully for them and their teams, now it's all systems go.
The league's highest-paid player and Hart Trophy winner says his Penguins counterpart is No....

Defense is better and motivation shouldn't be lacking, but the Red Wings are still too cap...

The 45-year-old free agent is taking things patiently as September approaches
The playoff drought might not end immediately, but something is brewing in restocked Buffa...

Former Lightning standout will be guarding the net in style in 2017-18

Devils are still in rebuilding mode, but they have reason for hope thanks to young additio...