Marc Staal supports mandatory visors, won't return to 100 percent
Rangers defenseman Marc Staal would be in favor of mandatory visors sans grandfather clause. He is improving but says his eye won't be 100 percent.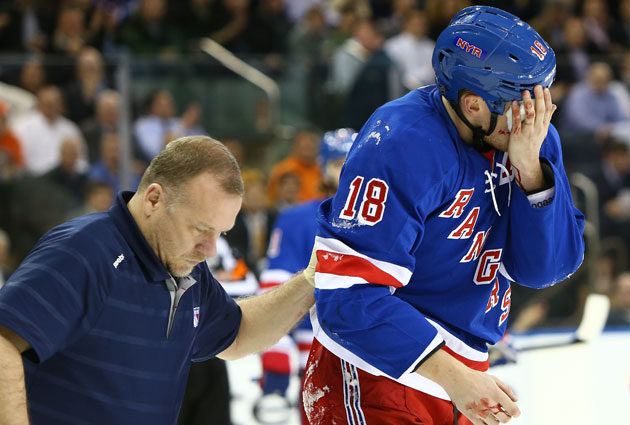 More NHL Playoffs: Scores | TV Schedule | Expert Picks | Odds | Mock Draft | Rumors
New York Rangers defenseman Marc Staal used to not wear a visor. Now he is in favor of every player wearing one. Right away.
As you'll recall, Staal took a shot to the face this season, severely damaging his eye. It was a gruesome injury that knocked Staal out of the lineup effectively for the rest of the season.
Since then Staal has seen the light, moving to the pro-visor side. His brothers, Eric and Jordan, joined him in Carolina by wearing visors for the latter portion of the season as well. Marc had said before that he thinks players should have to wear visors and he's not backing off now.
Staal says he's now voting for mandatory visor use without a grandfather clause.

— Andrew Gross (@AGrossRecord) May 27, 2013
While there is certainly growing support for mandatory visors in the NHL, I don't think there will be equal zeal for institution of visors without that grandfather clause, a clause that would allow for players already in the NHL to decide if they want to use a visor or not but require all incoming players to wear one. There are still a lot of guys in the league now that wouldn't want to switch to a visor, probably enough to prevent any across-the-board implementation.
Regardless, it's pretty easy to understand why Staal is taking the position he is now. His career was put in jeopardy over something that was preventable, or at least could have been mitigated with a visor.
The good news, though, is that Staal is getting there. He tried to make a return in the playoffs but was only able to play one game vs. the Capitals before returning to the press box with the scratches. Still, he is improving, and while he said his eye won't ever be 100 percent again, he does think he can play at a high level once more.
The puck didn't go in the net but the skater did!

Another sign that Houston is a potential destination for an NHL relocation
The two teams combined for 111 penalty minutes and five ejections

The veteran Minnesota goaltender has recorded three consecutive shutouts

The historic start for the NHL's newest team has come largely from unprecedented balance in...