Marek Zidlicky pins penalty problems on 'new NHL'
Marek Zidlicky, the Devils' leader in penalty minutes, blames the 'new NHL' for his 42 PIM in 43 games. The 'new NHL' has power plays at lowest level in years.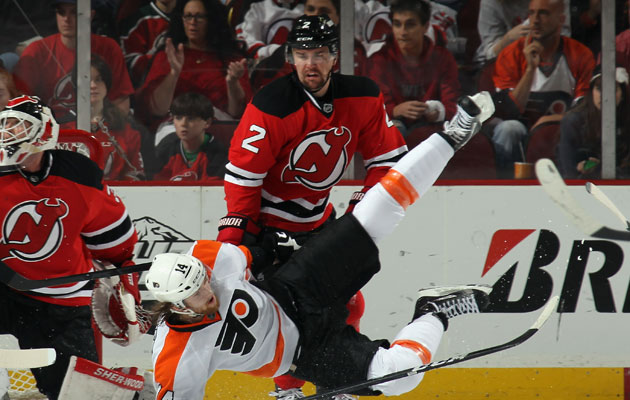 More NHL: Scores | Standings | League Leaders | Odds | Injuries | Power Rankings
New Jersey Devils defenseman Marek Zidlicky has a bit of a problem; He has a hard time staying out of the penalty box. He leads the Devils this season with 42 penalty minutes and those 42 minutes accurately describe the picture as he has incurred exactly 21 minor penalties.
Just know that it's not Zidlicky's fault according to Zidlicky. Blame those people asking for more penalties to increase the offense.
Per Randy Miller of the Newark Star-Ledger:
Ask Zidlicky about the 21 minors called on him this season, and he'll argue that he's often been charged guilty as an innocent man even though the teammate closest to him, Dainius Zubrus, is 9 behind with 13.

"It's not cool to get a penalty when you just touch the guy with your stick," Zidlicky said after Monday's practice. "One time I touched somebody at the glass and he fell down and a penalty is called. That's tough. I just touched the guy."

Zidlicky blames his penalties on what he calls the "new NHL," which he says now has officials calling penalties for things he previously could do when defending opponents.

"They're looking for more power plays in the games," he says.
Indeed, there have been plenty of calls in recent years for officials to emphasize the rules more and start calling penalties. Presumably there will be more scoring if there are more power plays and with scoring continually going down, that is a worthwhile aim for the NHL.
Except there is one problem with Zidlicky's New NHL theory: It isn't really backed up by the numbers.
Zidlicky, now 36, has been playing in the NHL going back to the 2003-04 season. This season there are an average of 3.33 power play opportunities per team per game. That is the second fewest number of power-play chances in Zidlicky's career. When he was a rookie there were an average of 4.24 power plays per game. In his second NHL season, after the lockout, there were 5.85 power play chances per game. The new NHL has fewer power plays than any time before, not more.
It's probably not something that Zidlicky wants to accept, but the 42 PIM in 43 games is likely a lot more about him than it is the refs. In fact, it's not really anything new because in 661 NHL games he has 586 minutes in penalties. His best career season came as a rookie when he had 53 points for the Predators. In 82 games that season, back in 03-04, he had 82 minutes in penalties. Doesn't seem too new.
However this doesn't seem to be a huge problem for the Devils, coach Peter DeBoer was aware of the penalties before they acquired Zidlicky. But it's not an issue that won't be corrected if Zidlicky continues to think it's the officials.
S/t PHT
Stacia Robitaille says Donald Trump told her in an elevator that she was coming home with...

Vladislav Yeryomenko was the Teddy Bear Toss goal scorer for the Calgary Hitmen

The Golden Knights are finally getting their No. 1 goalie back after a 25-game absence
Washington has won four straight, and the Kings are also on a tear right behind the Lightn...

The NHL says it's only interested in expanding to Seattle, but here's a look at all the moving...

The NHL says it is only looking toward Seattle for the next expansion team