Martin Brodeur seems likely to return next season
Martin Brodeur made it sound like he's planning on coming back for at least one more season.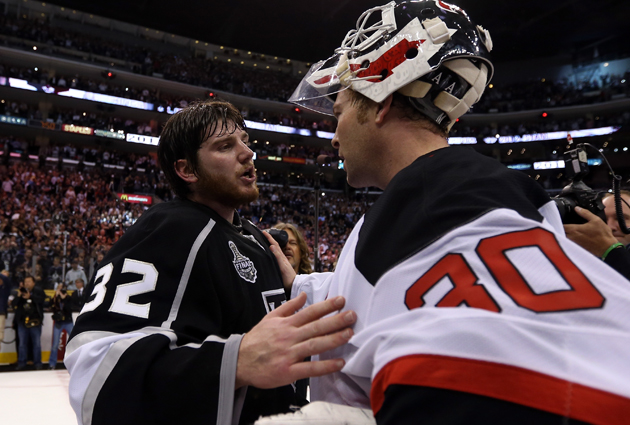 Martin Brodeur greets Kings goalie Jonathan Quick during the traditonal post-series handshake on Monday night in Los Angeles. (Getty)
<br />Martin Brodeur
's season didn't have the ending he wanted, but it appears as if he's going to
once again be back on the ice when the 2012 season starts.
He hasn't officially confirmed it yet, but his postgame comments following the
Devils
loss on Monday night made it seem like there's a pretty good chance he will be back for at least one more season.
"This season and this playoff run answered a lot of questions – where my game is at – and I'm really happy to hopefully continue," said Brodeur
on Monday night via ESPN's Katie Strang
.
This comes a little over a week after
he hinted that he was leaning toward coming back
whether the Devils won or lost the Stanley cup.
Brodeur was excellent throughout the postseason for the Devils and at times during the Stanley Cup Final seemed to play some of his best hockey, especially during the Devils win in Games 4 and 5 when he was probably the biggest reason the series didn't end then. His performance during the regular season saw a noticeable decline in his production from previous years, but he came up huge in the playoffs.
Technically, Brodeur will be eligible for unrestricted free agency on July 1 but it's impossible to imagine him coming back to play for any team that isn't the Devils.
For more hockey news, rumors and analysis, follow @EyeOnHockey and @agretz on Twitter and like us on Facebook.
Los Angeles isn't rushing to sign the 45-year-old forward any time soon

The University of Denver star and Hobey Baker Award winner is drawing interest

Intrigue is high in Arizona after a wild offseason, but expectations should still be tempe...
Players are set to give personalized messages for Adidas' former hockey equipment brand

The 40-year-old center is returning to the Wild after a successful run in Pittsburgh

Edmonton locks up its 21-year-old RFA a month after McDavid's historic extension