Martin Erat, Michael Latta dealt to Caps for elite prospect Forsberg
The Nashville Predators sent Martin Erat and Michael Latta to the Washington Capitals for elite prospect Filip Forsberg.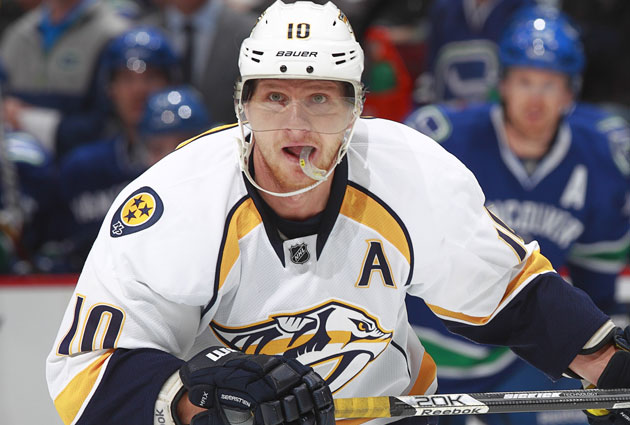 More NHL: Scores | Standings | Odds | Fight-O-Meter | League Leaders | Rumors
Almost two hours after the NHL trade deadline officially passed, one final deal trickled through.
The Nashville Predators sent Martin Erat and Michael Latta to the Washington Capitals for elite prospect Filip Forsberg.
It might not seem like the biggest deal of the day -- OK, it wasn't, not with Jason Pominville and Marian Gaborik being traded -- but it's still a pretty big one. The Capitals get a winger whom they hope can play in their top six right away and a centerman who is close to NHL ready.
However, the return is very costly. Forsberg was Washington's first draft pick last summer, and the consensus was the Capitals got a steal getting Forsberg from where they were picking. The Swedish prospect projects to be a big-time player in the NHL. It's a big cost for the Caps.
Credit goes to Nashville GM David Poile. Yes, the Preds needed scoring and they just traded their leading scorer. But all things considered, it's a fantastic deal.
Especially when you consider Erat asked for a trade. Poile turns a player who wanted to leave (and a center prospect) into a top-shelf prospect in Forsberg. Not bad.
That's not to say the Caps aren't getting what they want here. They have been missing some scoring punch on the wing since Alexander Semin departed in free agency. Erat's goal scoring is down this season but he does have 21 points (four goals, 17 assists).
Erat is not a young prospect, though. The 31-year-old has been in Nashville since making his debut in 2001-02. He had a career-high 23 goals in 2007-08 and just last season he had 19 goals and 39 assists. He is capable of producing offense.
In addition, he has two more seasons beyond this one with a $4.5 million cap hit. It puts the Capitals $8 million under next year's salary cap with only 17 players signed. Keep that in mind when they're talking about an extension for Mike Ribeiro.
Plus, with Latta coming over, they get some depth at center, a position that they have struggled with in recent years. This season, the 21-year-old playing for AHL Milwaukee has 34 points in 67 games while racking up 184 penalty minutes. If Ribeiro does leave in the offseason, they have some potential reinforcement.
While Forsberg is seen as a sure-fire hit in the NHL, you never know. It's still a crapshoot with prospects. But if he turns out to be all that the scouts expect, than this could be a real coup for the Predators. Despite being drafted last season, Forsberg is not far from being ready to play in the NHL. He could be on the team as soon as next season.
Like any deal, time will tell to see how this one turns out. For now, it appears like an OK deal for Washington and a potentially great deal for Nashville. If Forsberg pans out, then maybe we'll re-evaluate it being OK for the Caps. I can guarantee you they'll be monitoring Forsberg's development in D.C.
Some familiar faces are back, but a cap-strapped summer left Chicago a little shakier than...

The Pittsburgh Penguins will put politics aside and visit the White House out of 'respect'...

NBC will reportedly be devoid of NHL game broadcasts between Feb. 7-26
The Winnipeg winger suggests Trump is going after 'the principles the U.S. was founded on'

League gets excited about exhibition matches in Beijing and Shanghai

NHL players are still disappointed they won't be going to skate in PyeongChang